SENIORS GET TO IT: Deadline is Sept. 30 (Just over 2 weeks) for a chance to earn a $2,500 scholarship. Use the cash for any educational expense, from books to summer camp. Plus you create a profile that helps you get discovered by colleges. CLICK
https://bit.ly/3CgoD25
TO APPLY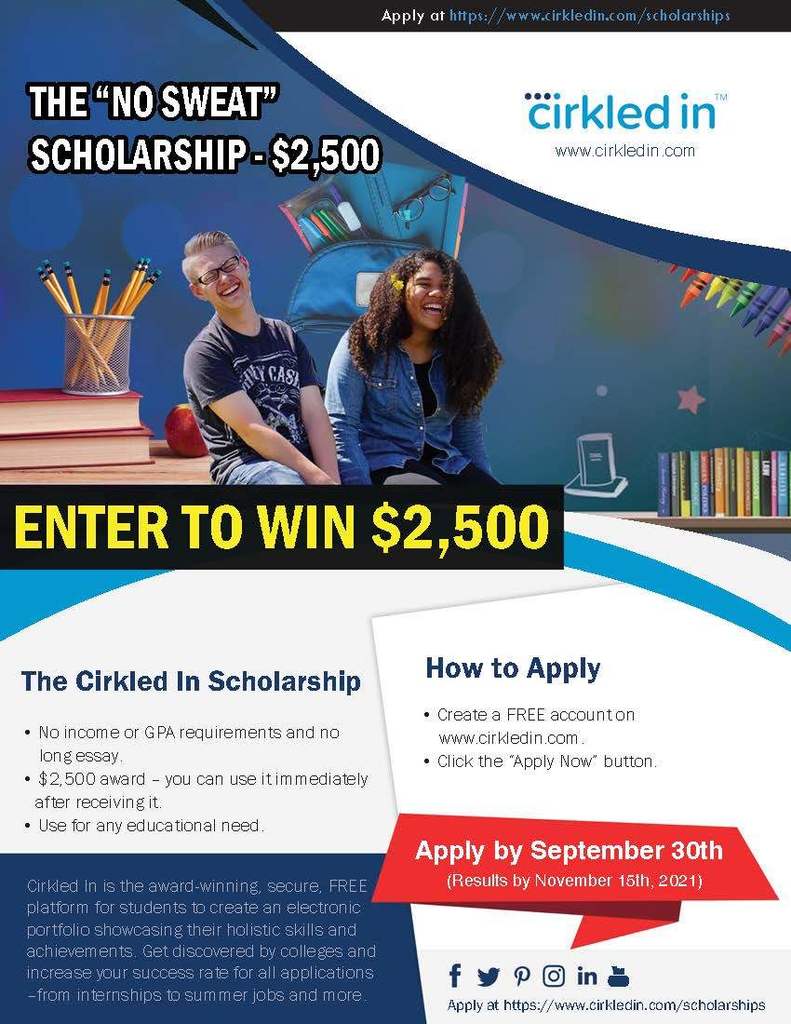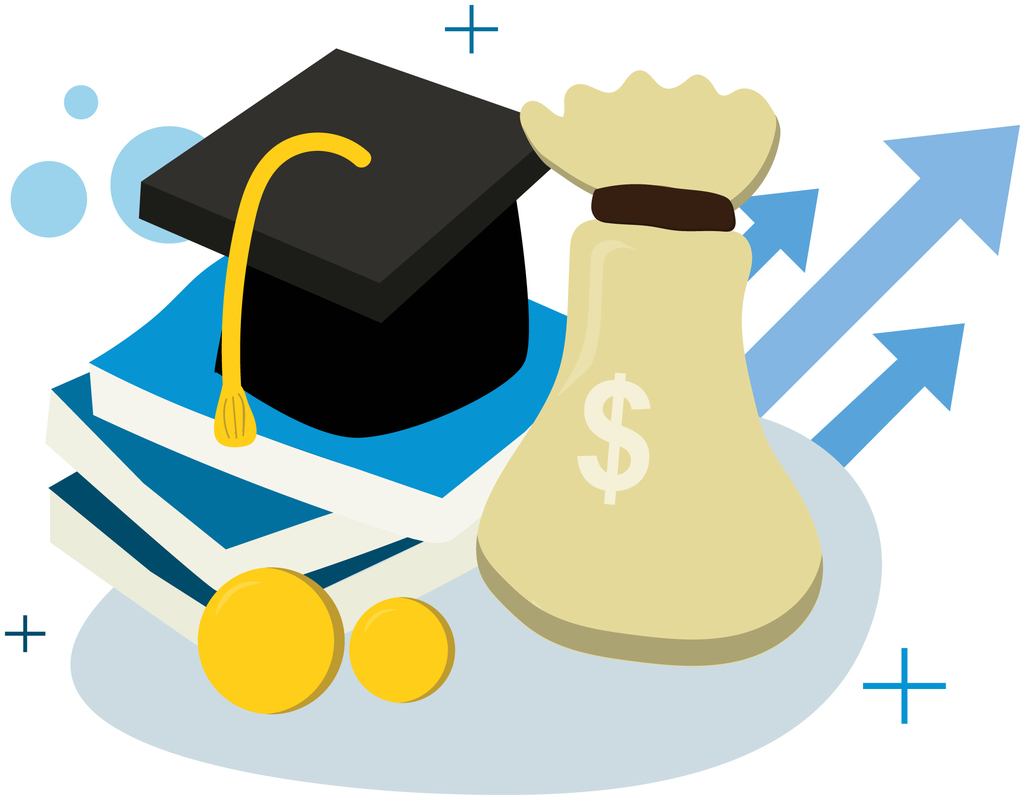 Want to learn more about the Watch D.O.G.S. program? Dads, Uncles, Grandfathers...bring your Elementary kids to Arp Elementary School's Cafeteria Tuesday, Sept. 21 from 6PM-7PM for Free Pizza & Activities! And CLICK LINK BELOW TO READ TYLER PAPER Article
https://bit.ly/3AbNx2i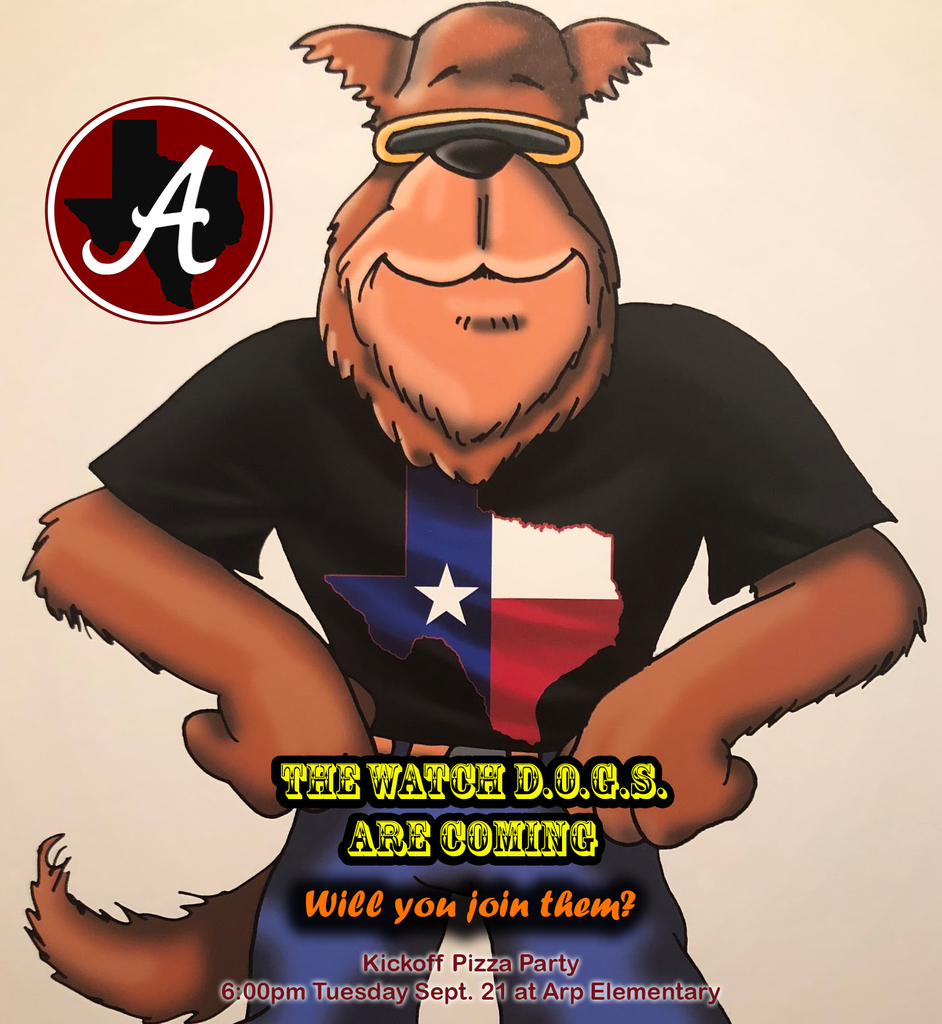 A VACCINE CLINIC IS COMING TO ARP: Here's your chance to be vaccinated against #COVID19. @MyNETHealth will have 1st & 2nd doses of the @pfizer vaccine available on Sept. 22 & Oct. 13 at Arp Jr. High's Cafeteria. Under 18 MUST have parent or guardian PRESENT. WALK-INS ARE WELCOME.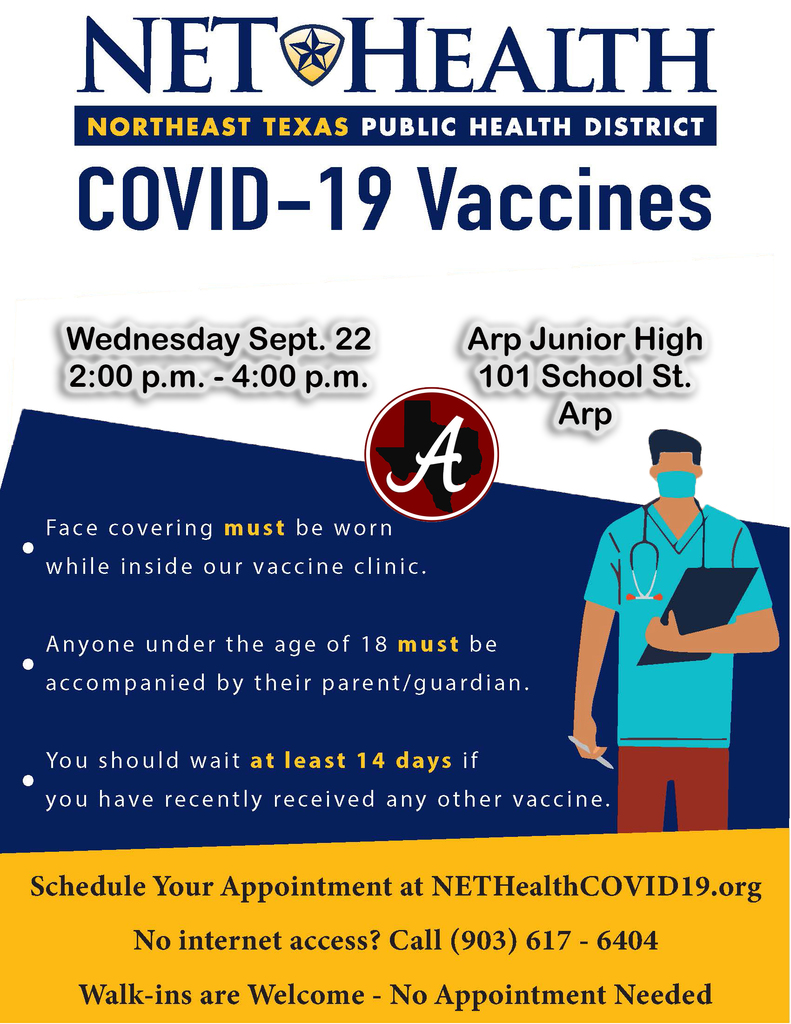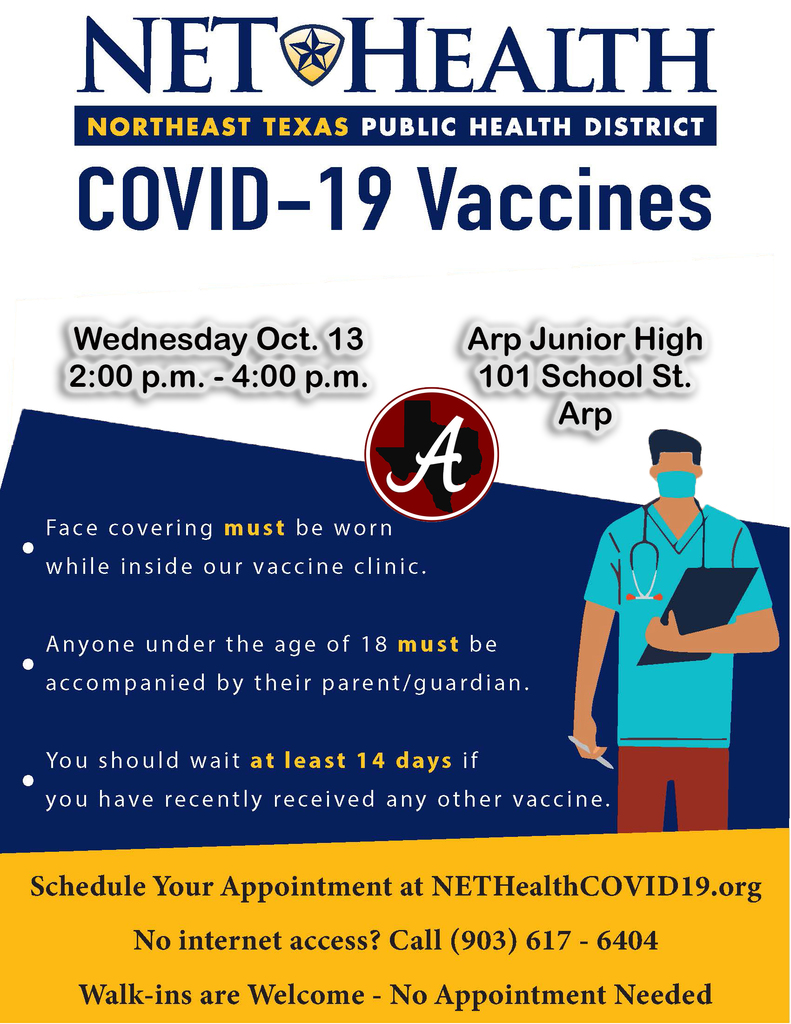 Garrison Jv 22- 0 over Arp Jv Football

WANT TO WIN THAT AWESOME QUILT? Get yourself some raffle tickets at Friday's @ArpISD home football game vs. Garrison. You can buy 1 for $5 or 3 for $10. Also hook yourself up with these cool maroon @arp_tiger bracelets for $1 each. All proceeds help Arp Elementary PTO #TPND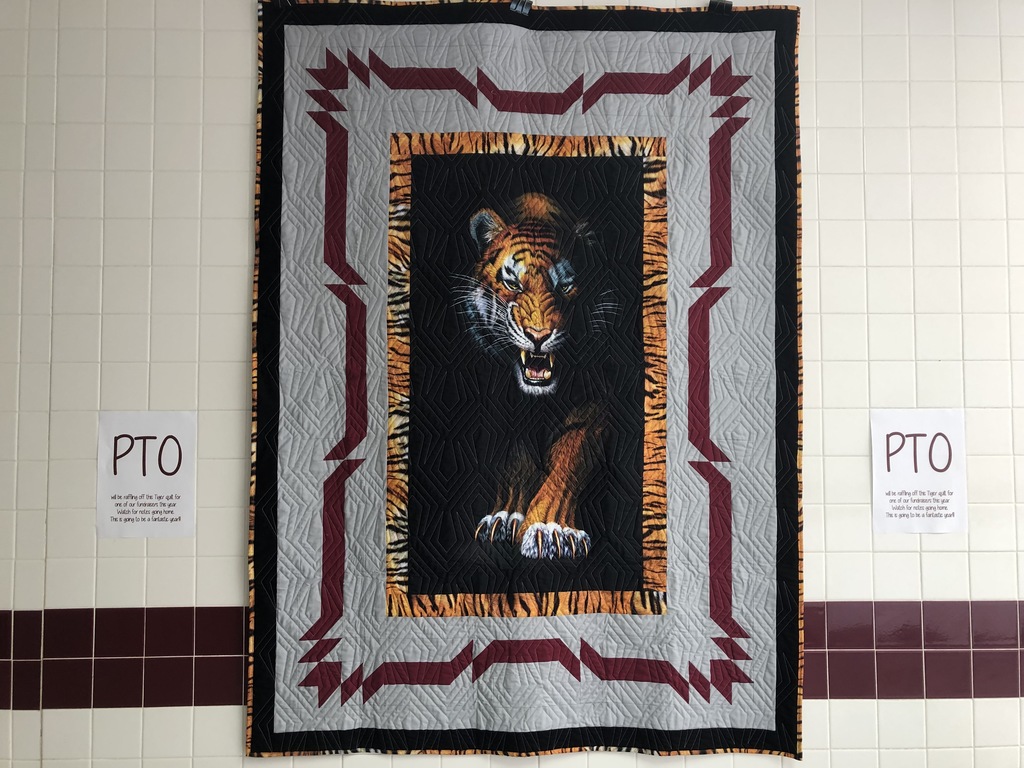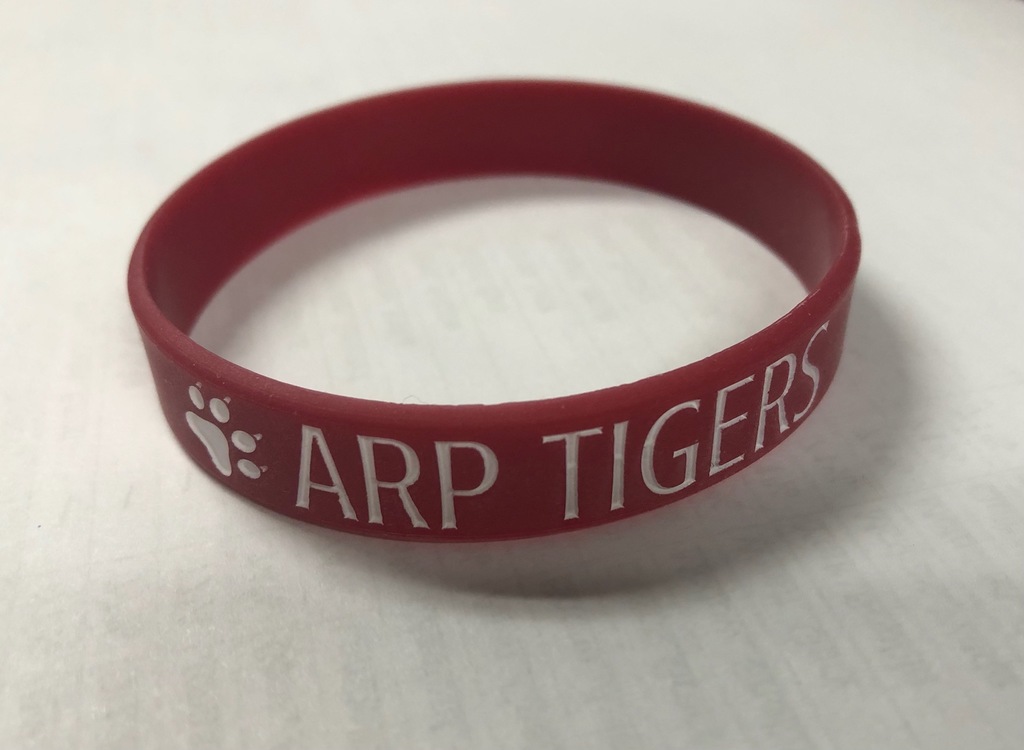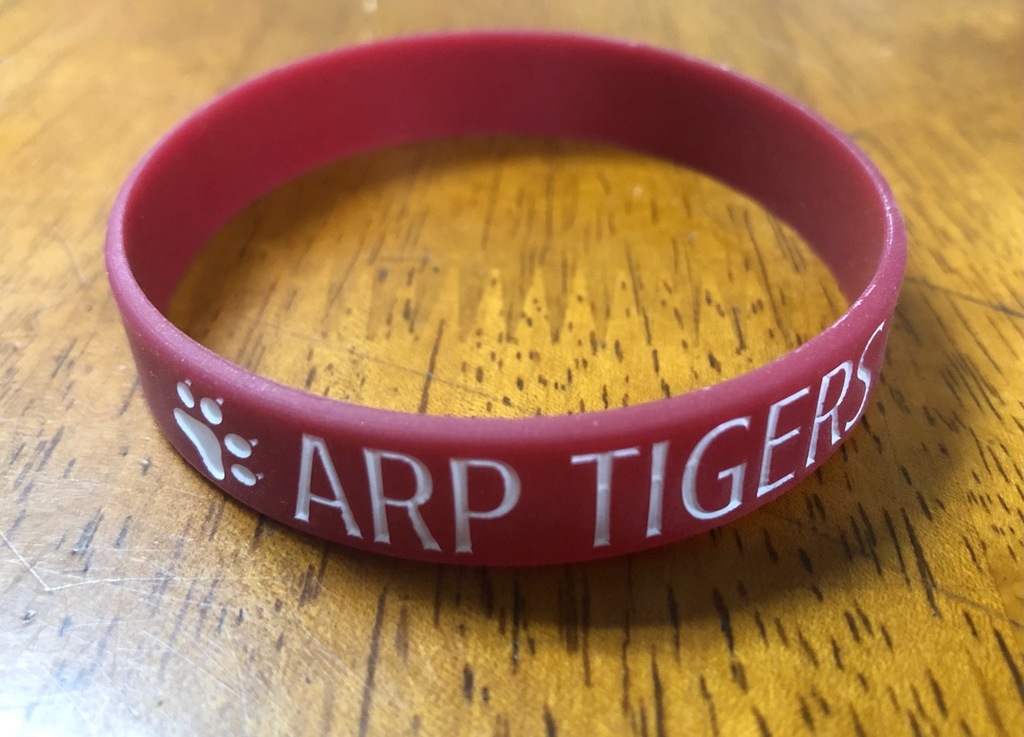 The Arp Lady Tigers JV defeated the Lady Hawks of Hawkins last night in a thrilling 3 game match, 31-29, 17-25, 25-13. The lady tigers played awesome and will get a short break as they gear up for district play beginning September 14 at against Waskom.
Lady Tigers lost their opening contest in bracket play to powerhouse Carthage 25-15, 25-17. Next for the Lady Tigers will be either Pine Tree or Atlanta at 12:00.
The Arp Lady Tigers are competing in the Marshall Volleyball Tournament, playing 2 matches on Friday splitting 1-1 on the day. Losing to Hallsville and defeating Marshall in Pool play. Bracket play will be on Saturday, game times are unknown at this time.

Superintendent Shannon Arrington has a very important message and recommendations for everyone in hopes to keep our school doors open. PLEASE CLICK
https://5il.co/yck6
TO READ IT.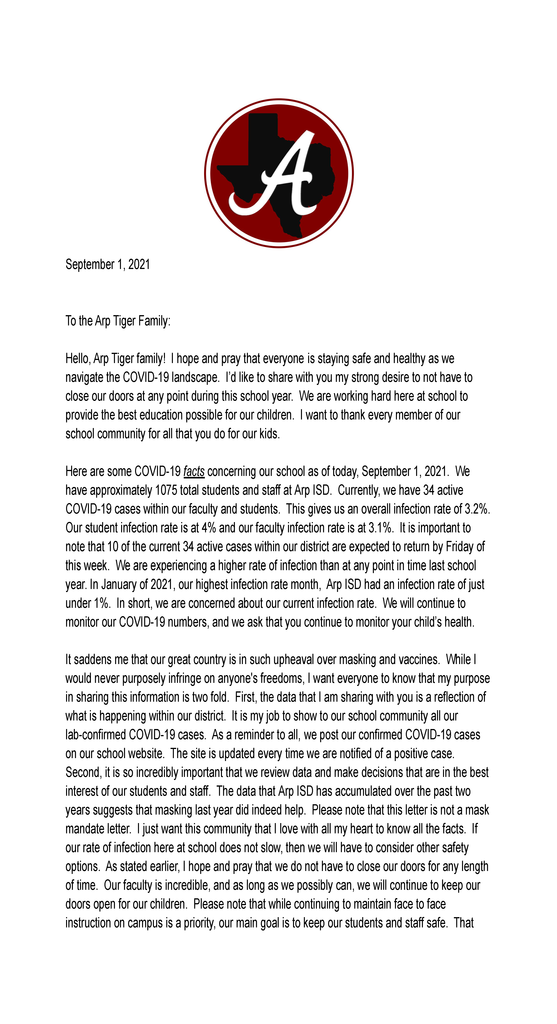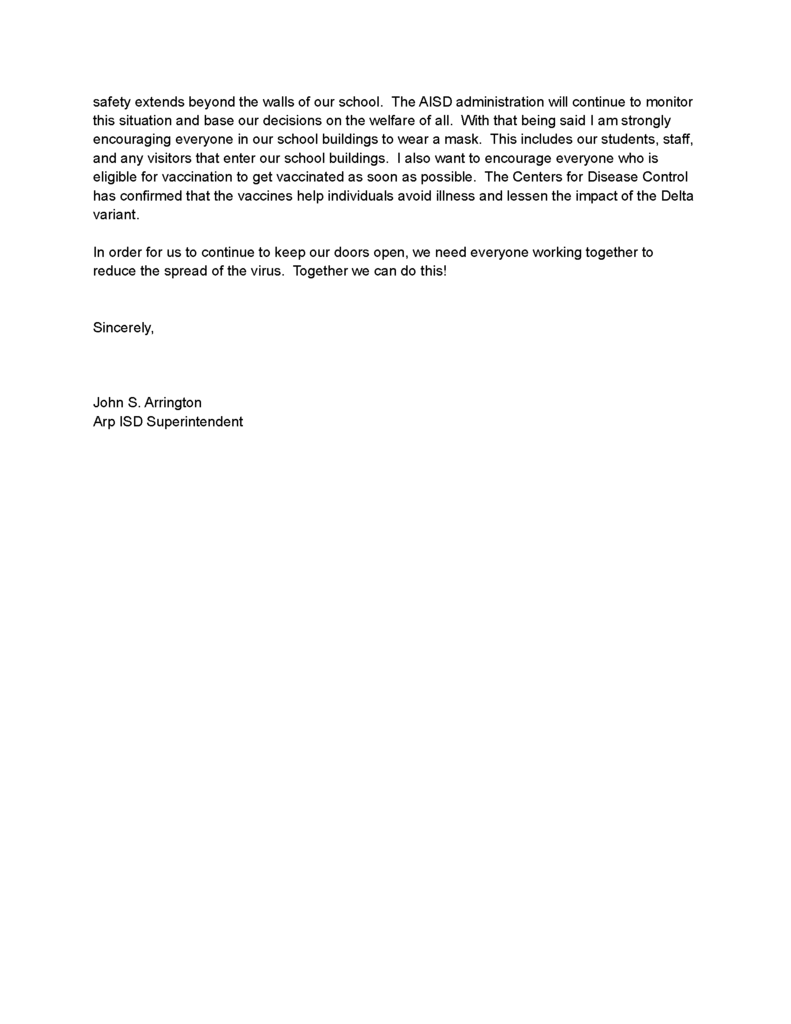 There will be no JV game Thursday evening between Arp and Tenaha. The varsity contest is this Friday Sept. 3 at 7:30pm at Bill Herrington Tiger Stadium in Arp. Tickets available at the Arp ISD administration office. WATCH LIVESTREAM:
https://www.facebook.com/ArpHighSchool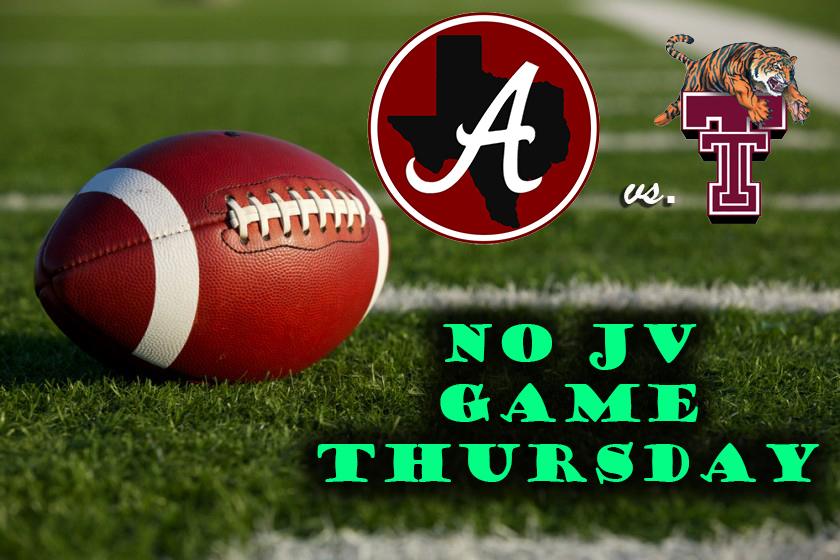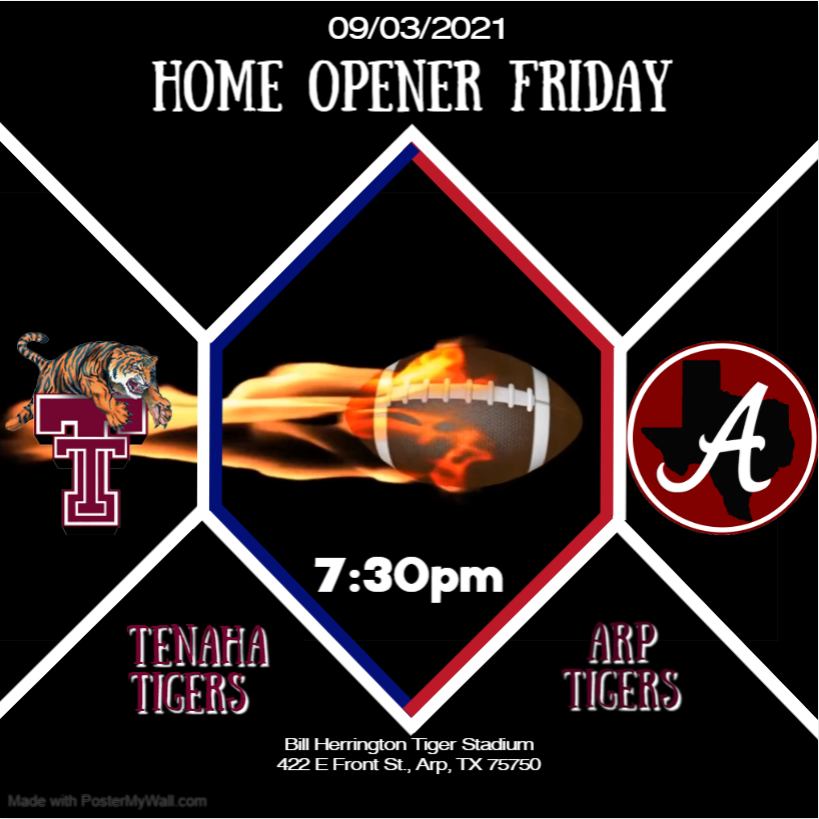 Lady Tigers JV lost to the Harmony Lady Eagles 2-0, 25-21, and 25-20. The ladies play very hard but just could not stop the eagles.

JH VOLLEYBALL MATCHES MOVING TO HS: All Arp Lady Tiger Junior High home volleyball games will be played at Arp High School's John Mills Parker Gymnasium until further notice.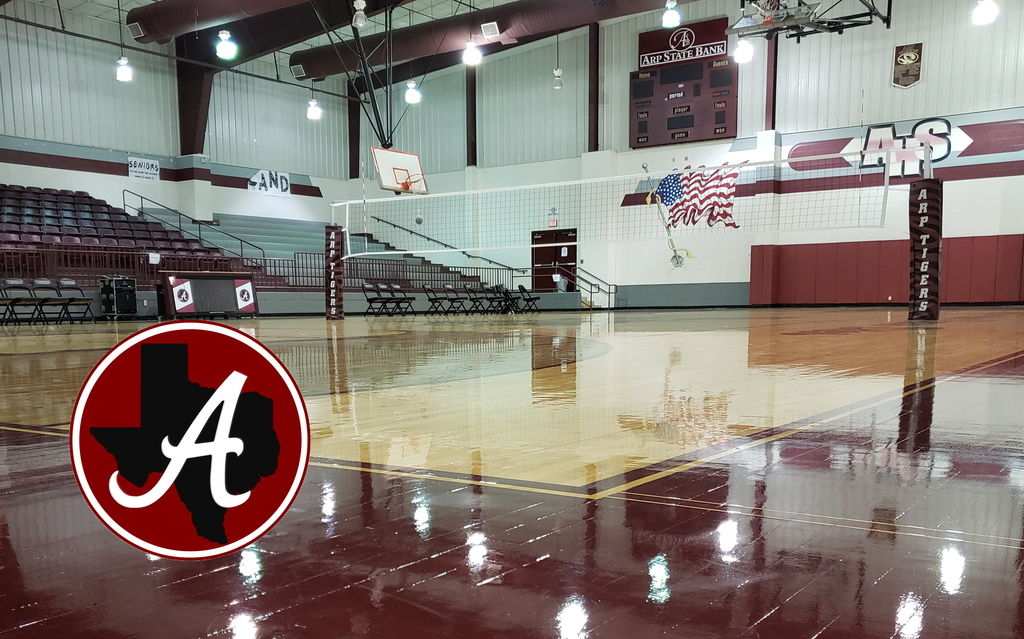 Lady Tigers 8A took down the Sabine Cardinals in two sets. The scores were 25-23 and 25-16

DO YOU WANT ONE OF THESE? Get your T-Shirt orders in ASAP, most are due by Friday of this week. There's football, cross country, volleyball, bass fishing, Jr. High Cheer, Elementary spirit, & others to choose from. CLICK LINK BELOW FOR THE ORDER FORMS.
https://bit.ly/3yprhA1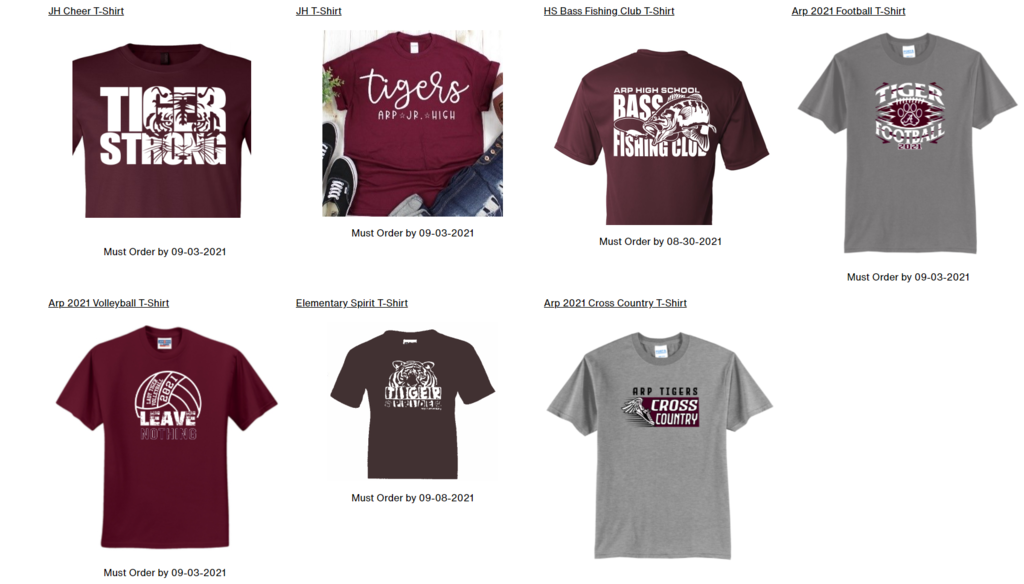 Arp Lady Tigers competed in the Gladewater Junior Varsity/Freshman tournament at GMS today. The Lady Tigers JV lost a heartbreaker in the opening match to Beckville 2-0 with score of 25-23 and 29-27. The lady tigers play an awesome match to come up just short.
Cross Country competed well today in Gilmer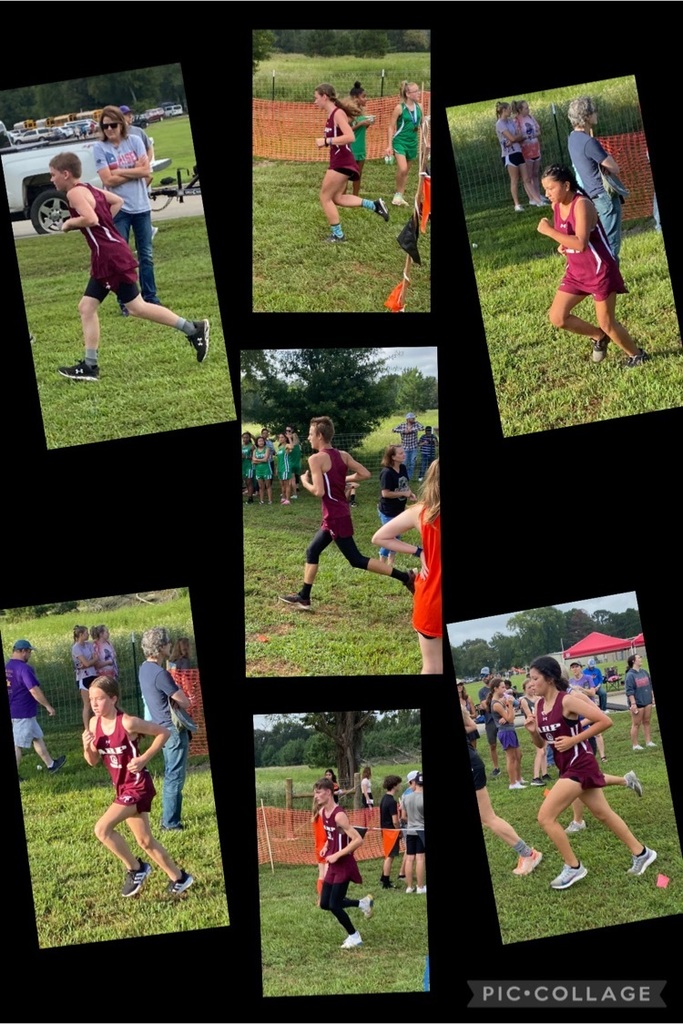 Arp Tiger Wins against Huntington 47-21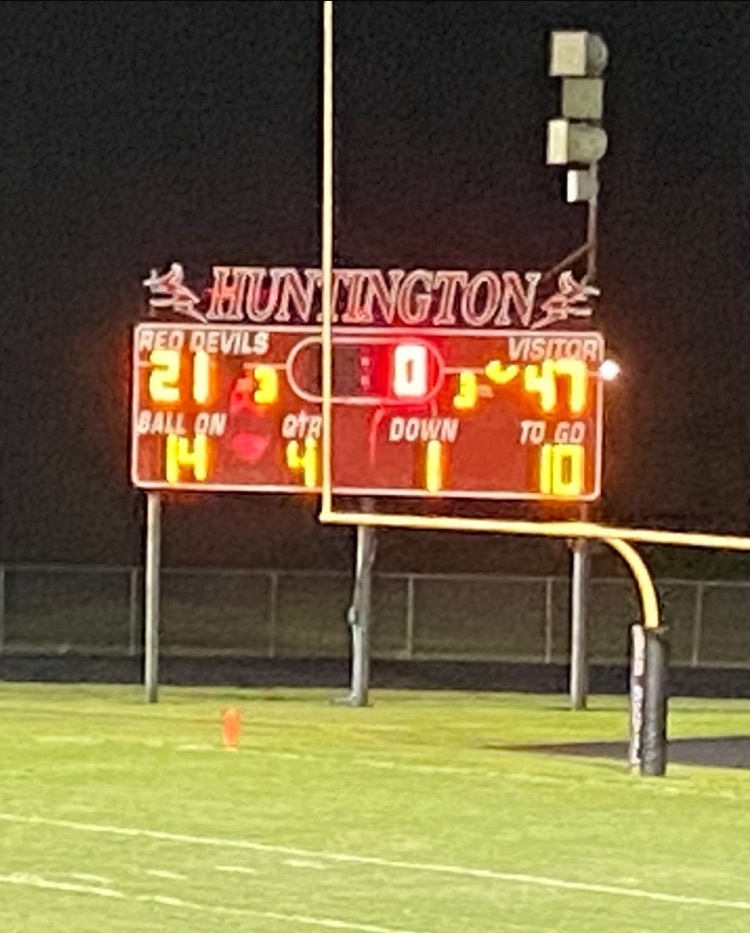 Arp Lady Tiger Varsity Volleyball fell to Sabine 3-0 Friday. 18-25, 9-25, 22-25 But bounced back to knock off Big Sandy in 4 sets 3-1. 25-17, 25-17, 21-25, 25-15.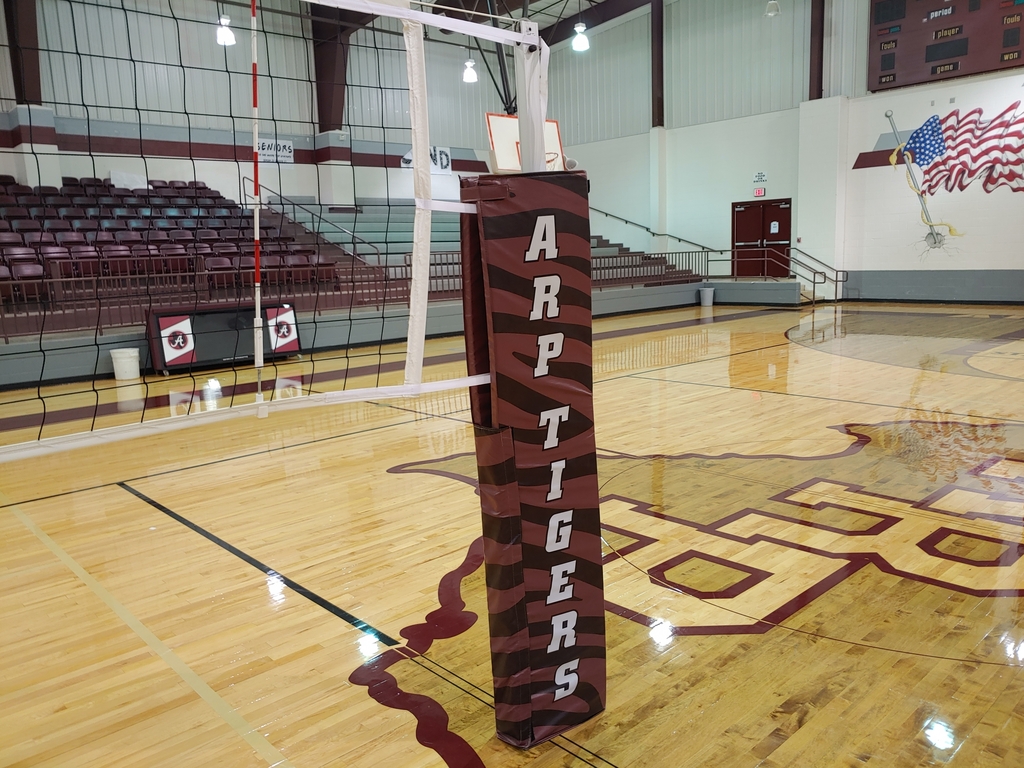 Best of luck to our Varsity Volleyball ladies as they are at Sabine for Dual matches this afternoon vs. Sabine & Big Sandy. This is our VARSITY schedule that includes approximate game times for the VARSITY contests. Sub-Varsity games typically get going at 4:30pm.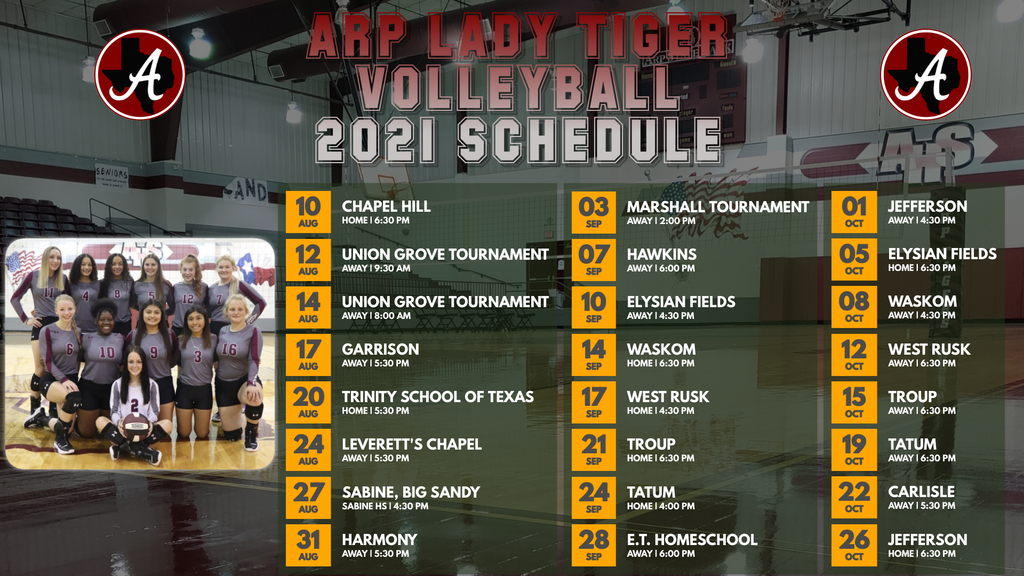 READY FOR SOME @arp_tiger FOOTBALL #bEASTtexas WATCH via LIVESTREAM on the Arp High School Facebook Page
https://www.facebook.com/ArpHighSchool
If you'll be there, the north end of the visiting stands at Red Devil Field are roped off for the Arp Tiger Marching Band. #txhsfb