REMINDER that Prom dues are due. $85 for juniors going to the prom, or seniors who did not pay last year. This price is good for the month of February. In March the dues will increase to $110. The prom is Saturday May 13. Dues are payable to Mrs. Rhonda Pawlik.

J.H./H.S. Winter Sports/Clubs Picture📸Day Wednesday Feb. 8: The following teams or clubs, J.H. FCA, J.H. Boys/Girls Basketball, J.H. One Act Play, H.S. Boys/Girls Basketball, H.S. Powerlifting, H.S. Clay Shooting, H.S. FCA, H.S. NHS, H.S. One Act Play, H.S. Digital Media, H.S. Yearbook will have their pictures taken by Croft's Photographic Services. CLICK
https://bit.ly/3I2eWde
TO PRE-ORDER YOUR PICTURES. Your gallery password is: ARPISD Downloadable Order Form:
https://5il.co/1ojme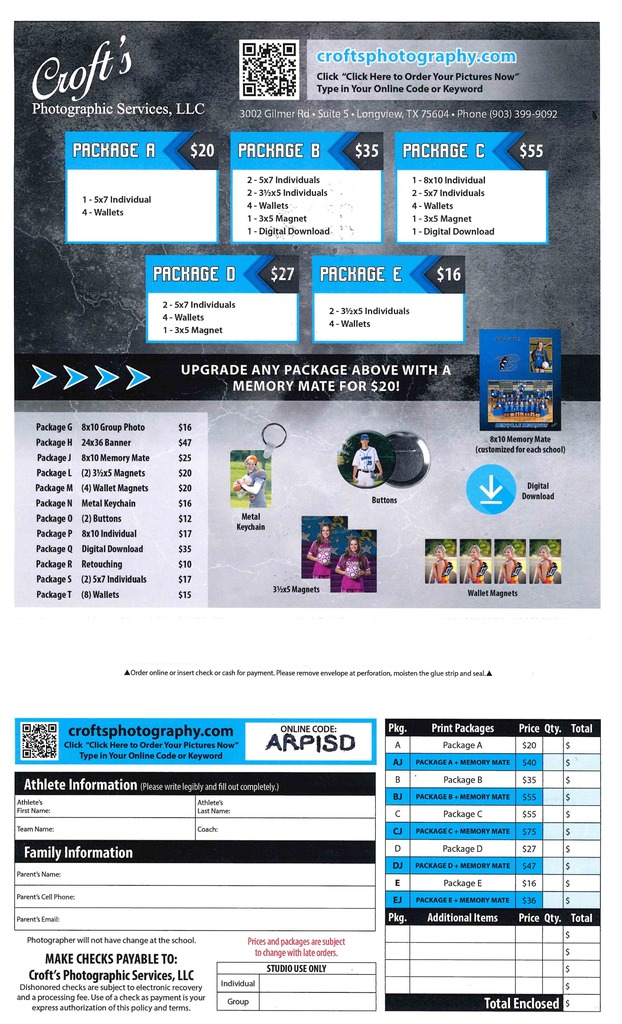 3rd week progress reports were given to your students today (Friday). Grades can also be monitored with Parent Portal and Student Portal. You may call the Arp High School office at 903-859-4917 should you need any assistance.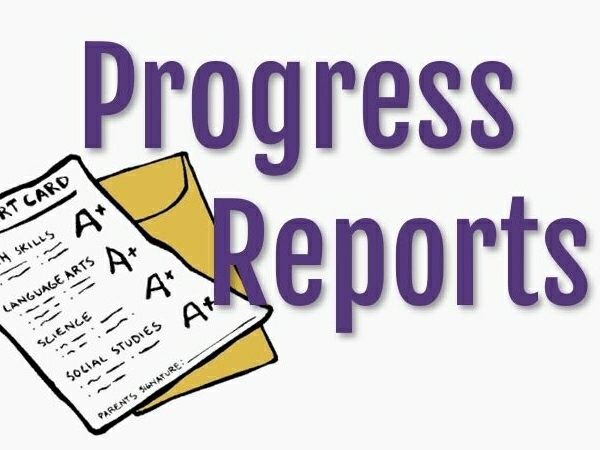 Get your tickets for a Valentine's Day Raffle: The Arp FFA booster club is holding a Valentine's raffle with tremendous gift certificates up for grabs. And it's all to support the Arp FFA boosters scholarship fund. $10/ticket or $50 for 6 tickets. The drawing is at noon next Friday Feb. 10 so hurry! See an Arp FFA Booster Member, an Arp FFA teacher, or an Arp FFA Chapter Officer. You can even Venmo your payment. Prizes & more info:
https://5il.co/1obrq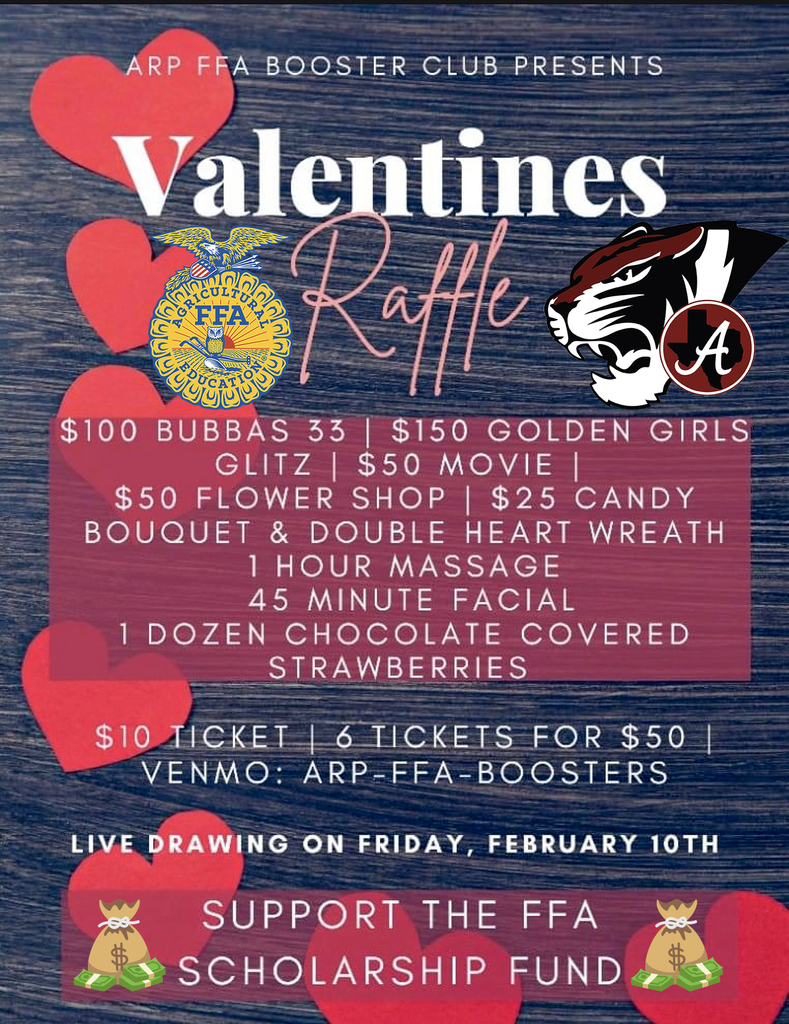 Arp ISD campuses will have a 2-hour delayed opening for Thursday Feb. 2 with classes beginning at 10:00am. Buses will run 2 hours later than normal. Please be safe Tigers!

NO SCHOOL Wednesday Feb. 1: Out of extreme caution, Arp ISD will be closed TODAY. Please stay safe and we'll see all you Tigers Thursday under a normal schedule. School district officials will continue to monitor the frozen precipitation that is moving through East Texas, and impacting our roadways and modes of transportation. As always, the safety of our students and staff are our first priority. Any updates or additional changes to our schedule will be released to our community directly from Arp ISD via our text message/email alert system, on the Arp ISD website, Arp ISD mobile app, and our social media sites on Facebook and Twitter.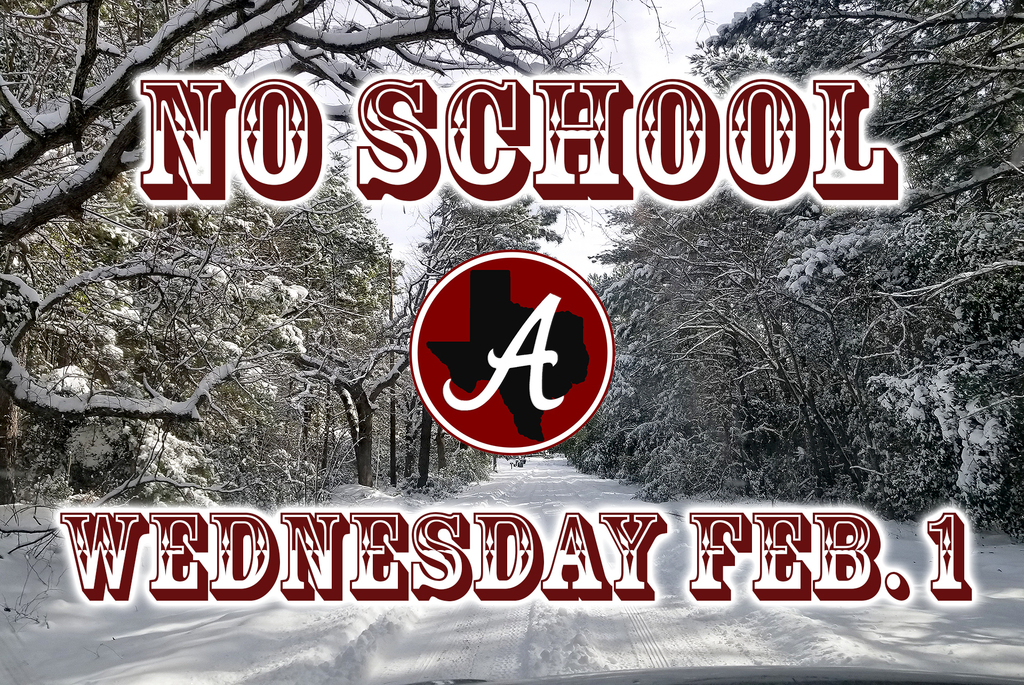 📺VIDEO📺: School Board appreciation. Take a look
https://5il.co/1o4bw
as our students thank the Arp ISD board of trustees while using many of the valuable tools they have recently provided them with as we wrap up school board appreciation month. School Board page:
https://bit.ly/3XSiCDX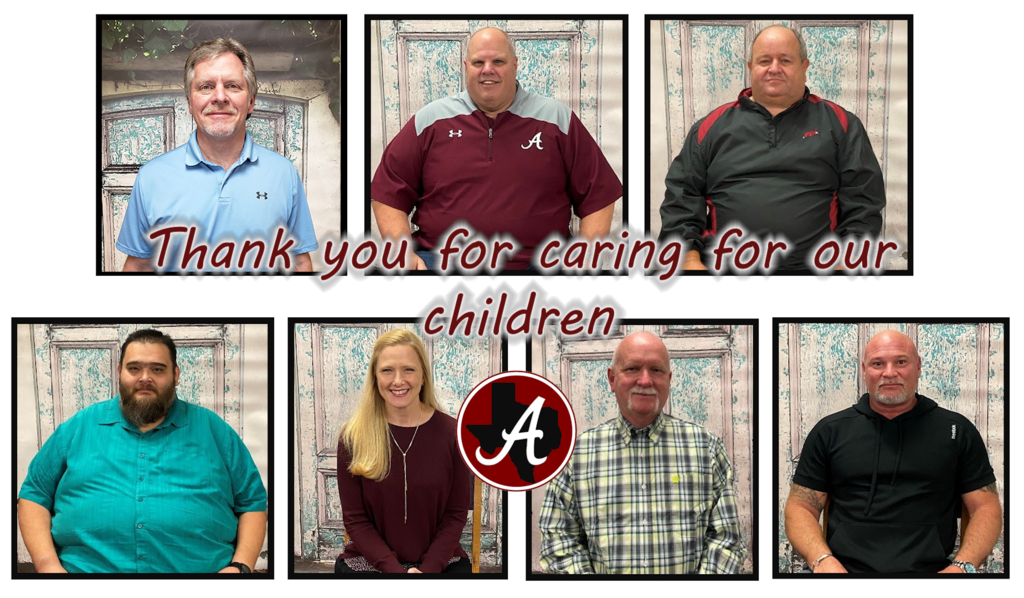 College Financial Aid Forms Night - Monday Feb. 13: If you need help filling out your FAFSA, come to Arp H.S. Rm. 270 from 4:30pm-7pm Monday Feb. 13. TJC/UT Tyler financial aid staff members will be on hand to assist. Students & at least one parent MUST be present & bring all 2021 tax returns, W2's & tax forms. Set up your FSA ID beforehand (it'll make the process faster):
https://bit.ly/3zSffla
Your student doesn't have to be planning to attend TJC or UT Tyler to come to the event. More Info:
https://5il.co/1o12q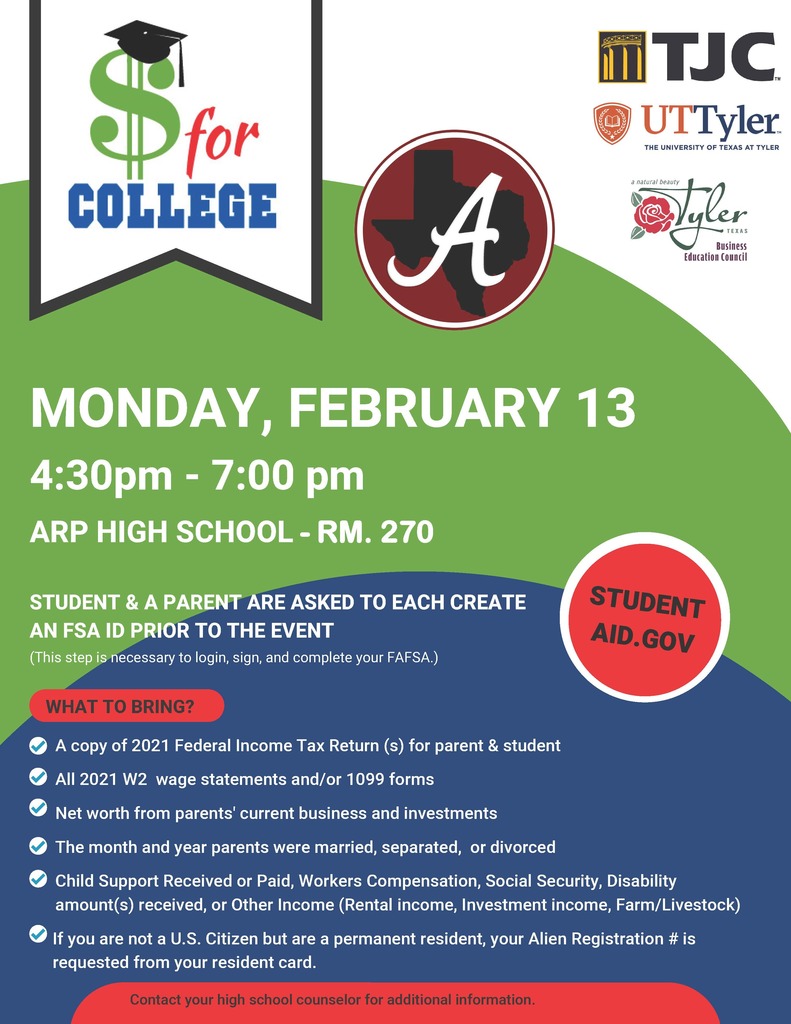 Thursday Arp Jr. High Boys🏀 Results: Big congrats to our 7A🐅 for the victory over #7MileRival Troup. That's their 3rd WIN in a row! 8A & B team came up just a little bit short. #TPND #EATT #bEASTtexas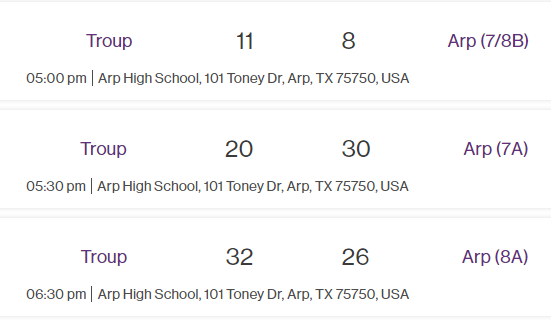 📺VIDEO📺: Sophomores visit Dallas Holocaust & Human Rights Museum, witness a reality that is at times difficult to grasp. CLICK
https://5il.co/1nvm9
TO WATCH the students' experience/reaction to the visit (Highly recommend watching to the end). Story:
https://bit.ly/3Jiq6eM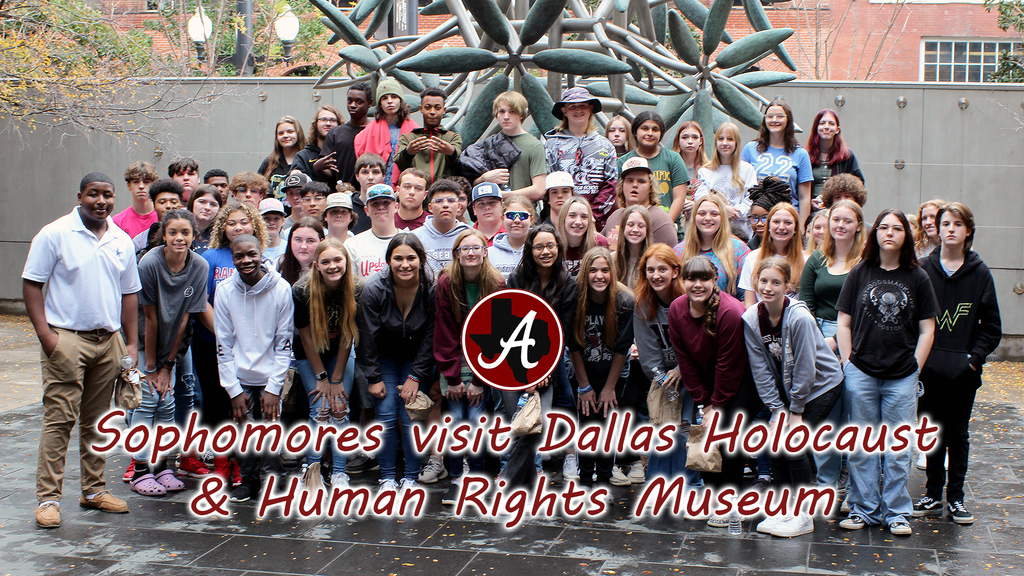 Arp America, Arp ISD has heard your voice! After a lengthy process of making sure our community receives the best product and service for their money, we have decided to change photographers, and will not be using Lifetouch going forward. As of Jan. 12, 2023, Arp ISD will be using Croft Photographic Images for all of our photography needs. A few significant features that you can look forward to from Mr. Croft are high quality products, great customer service, along with years of expertise that will provide your family with the best photographic memories possible. As Arp ISD completes this transition, we advise anyone with outstanding issues that have not been brought to our attention, to please contact Lifetouch immediately. Shutterfly rewards must be claimed by Monday Jan. 30, 2023. We thank you for reaching out to us and we look forward to a successful remaining year here at Arp ISD. For any questions or concerns, please feel free to reach out to the Yearbook Advisor, Le'Kisha Stinecipher at
lekishas@arpisd.org
or 903-859-4917.


Want an Arp Tiger🐅 Baseball⚾️ or Lady Tiger🐅 Softball🥎 shirt or warm hoodie? Here is your chance. Available in black, white, gray, or maroon until Feb. 25. CLICK
https://bit.ly/3XLPHRS
TO ORDER & support our guys & gals. #TPND #EATT #ALLIN #bEASTtexas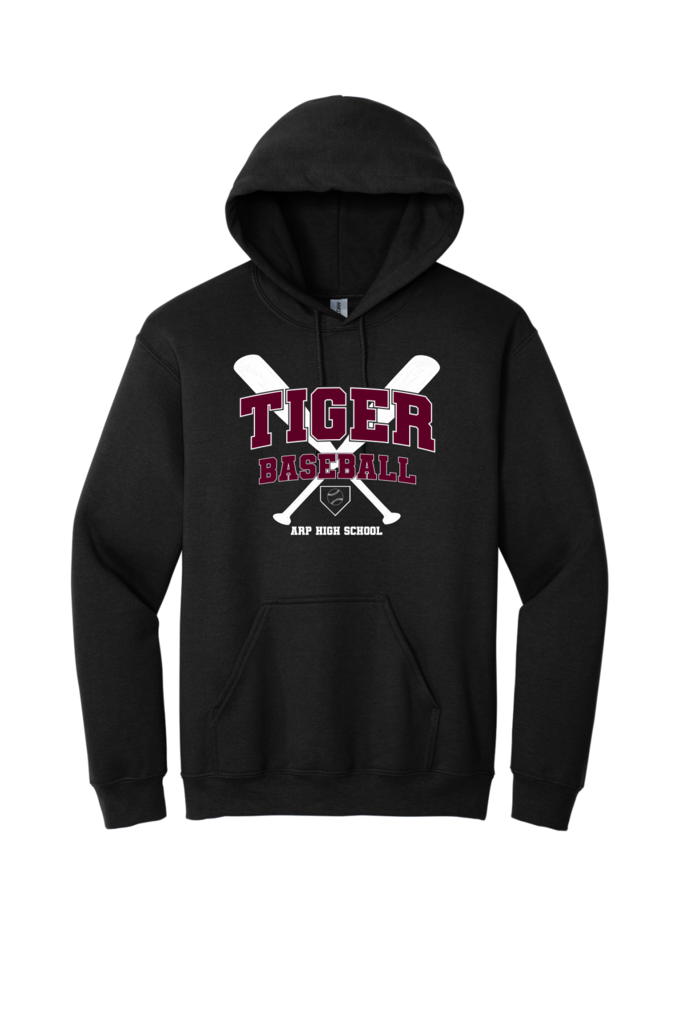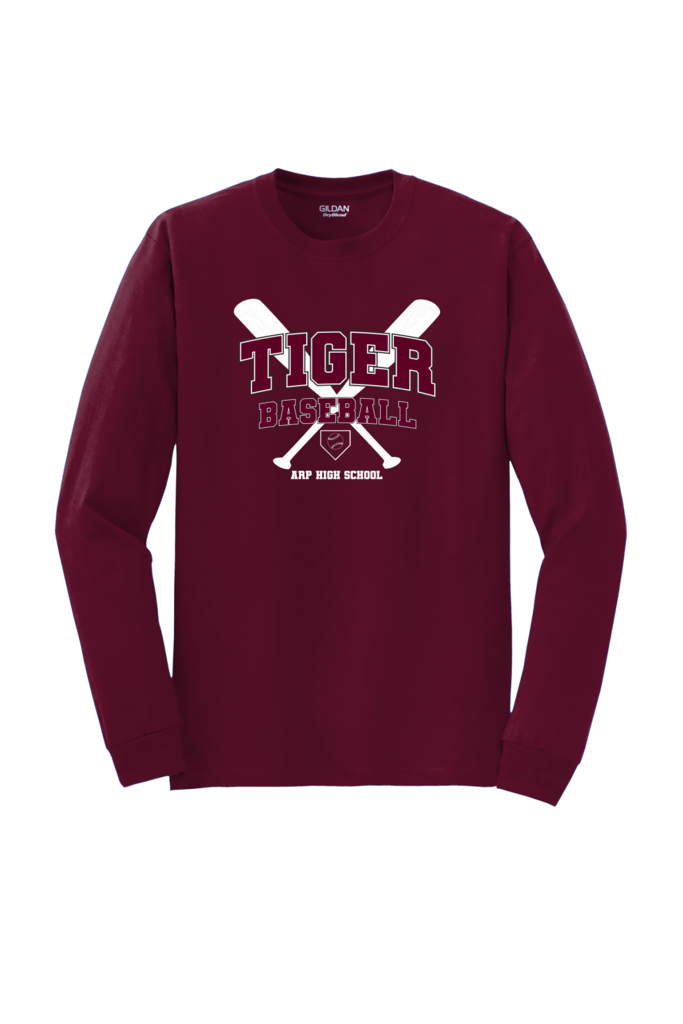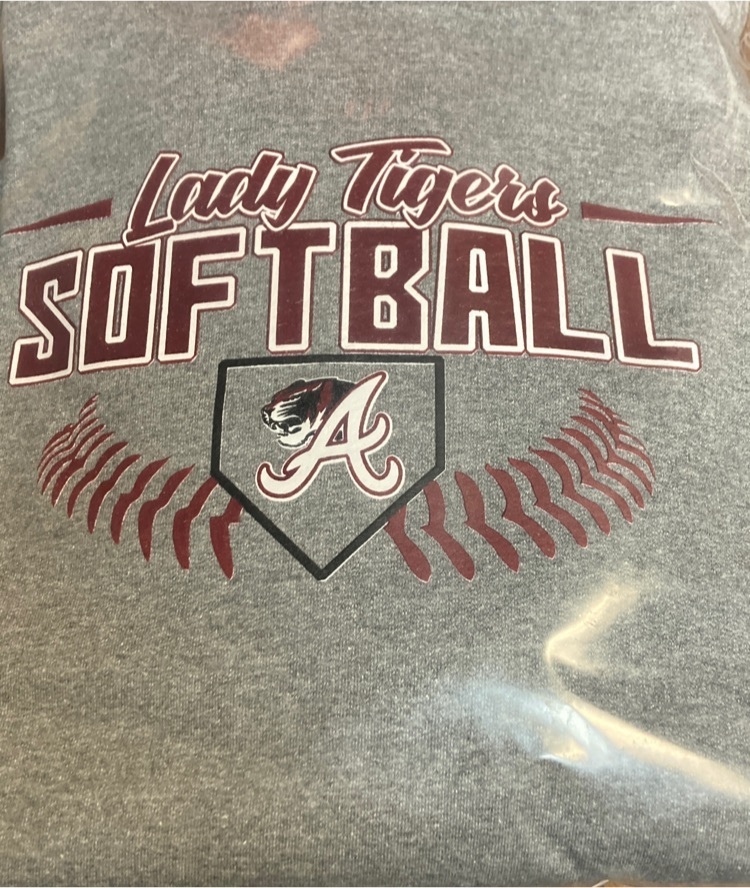 Seniors families: This is the last & FINAL chance to order your Senior products that include your Cap, Gown & Tassel. You MUST order on or before February 15th to receive items in time for graduation. Website:
http://tinyurl.com/hy75mcl
Balfour Office: 903-757-6595 If all you want is a cap, gown, & tassel:
https://bit.ly/3j5WjeU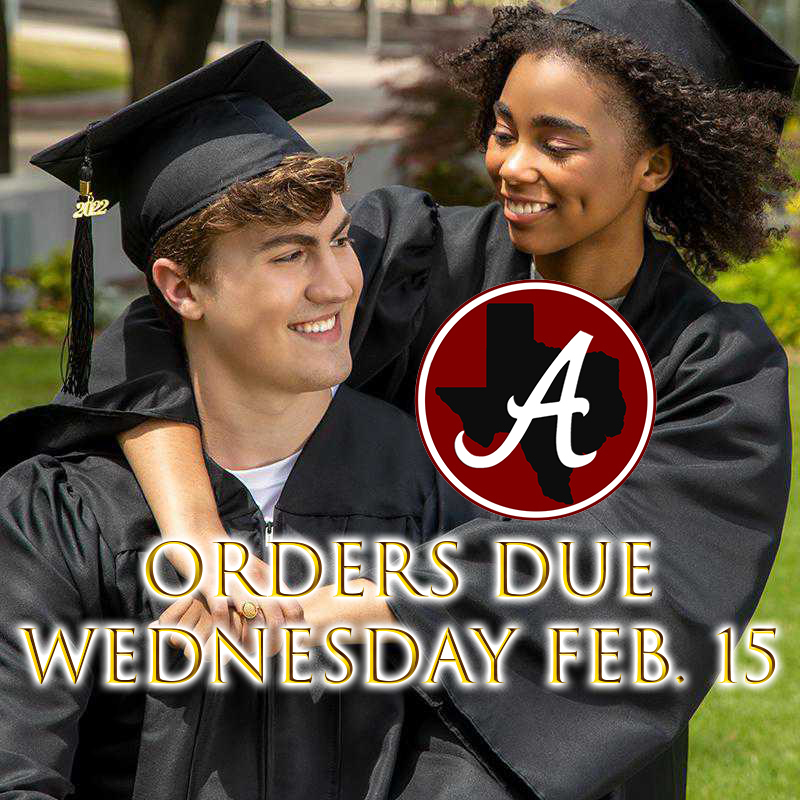 LADY🏀 TIGERS🐅 WIN!!! Arp 51 Elysian Fields 32 FINAL. Lady Tigers improve to 5-3 in District 16-3A action & 14-9 overall. JV ladies also won Friday 17-8. JV boys pulled it out over EF 46-44. Varsity🏀Boys fell 52-49.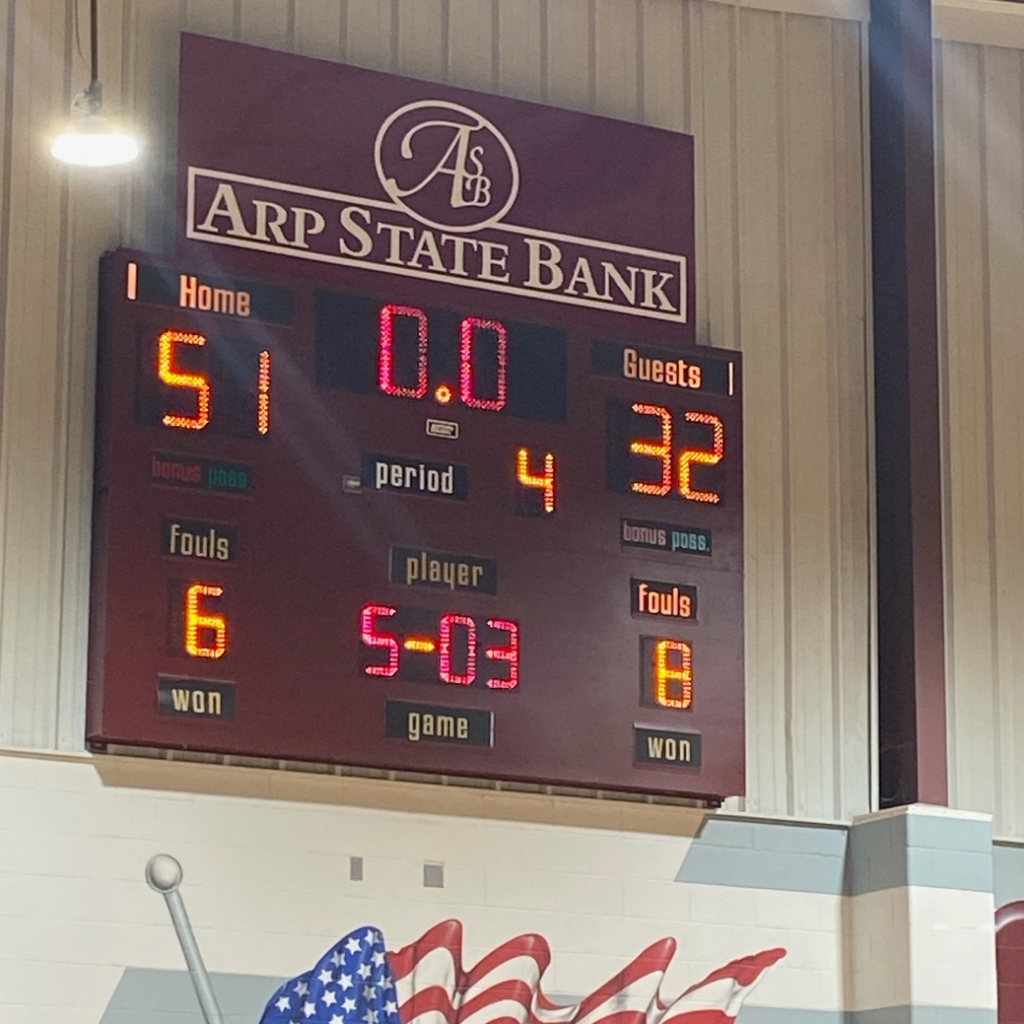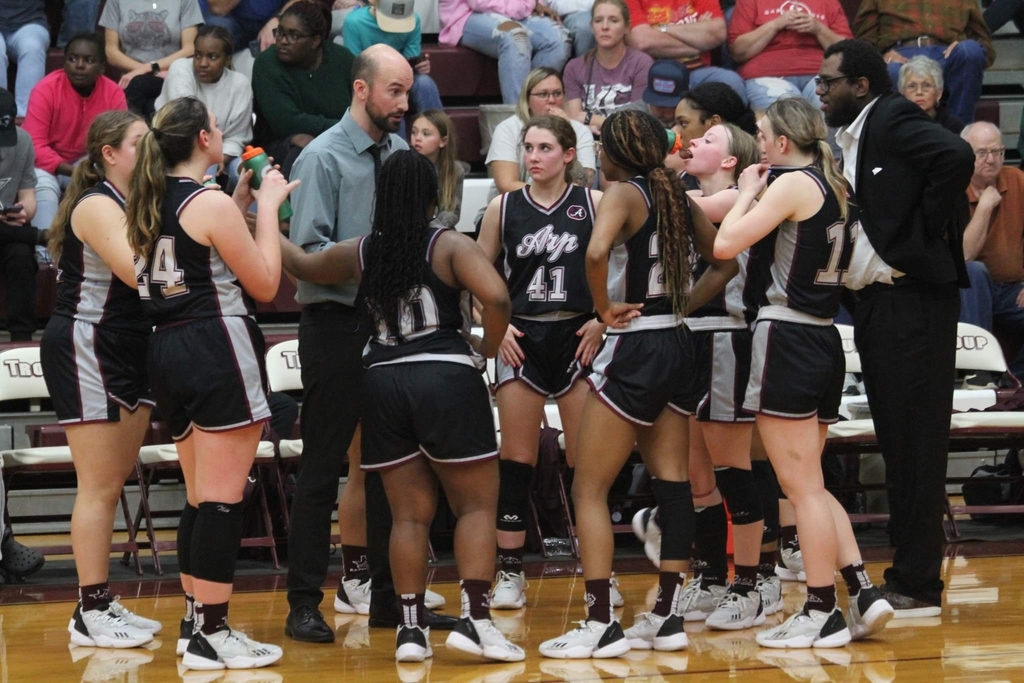 STILL ROLLING! Our 7A🏀Lady Tigers finished off a "PERFECT 10-0" regular season Thursday by winning at Tatum 42-21. 8A ladies have now won 5 of their last 6 games as they beat Tatum 30-19. B team girls made it a sweep of the Lady Eagles with a 9-2 victory. The 7A Boys back at home defeated Tatum 32-27. 8A boys came up short 50-41, while B team fell 14-6. Our 7A & 8A Lady Tigers play in the J.H. girls district tournament Saturday at Tatum High School. 9:00am - Arp (8A) vs. Waskom 11:00am or Noon - Arp (8A) vs. Tatum or West Rusk 1:00pm - Arp (7A) vs. West Rusk or Troup 3:00 or 4:00pm - Arp (7A) vs. TBD *8A could play more games depending on how they do. 8A games at Eagle Coliseum. 7A games at old Tatum High School gym.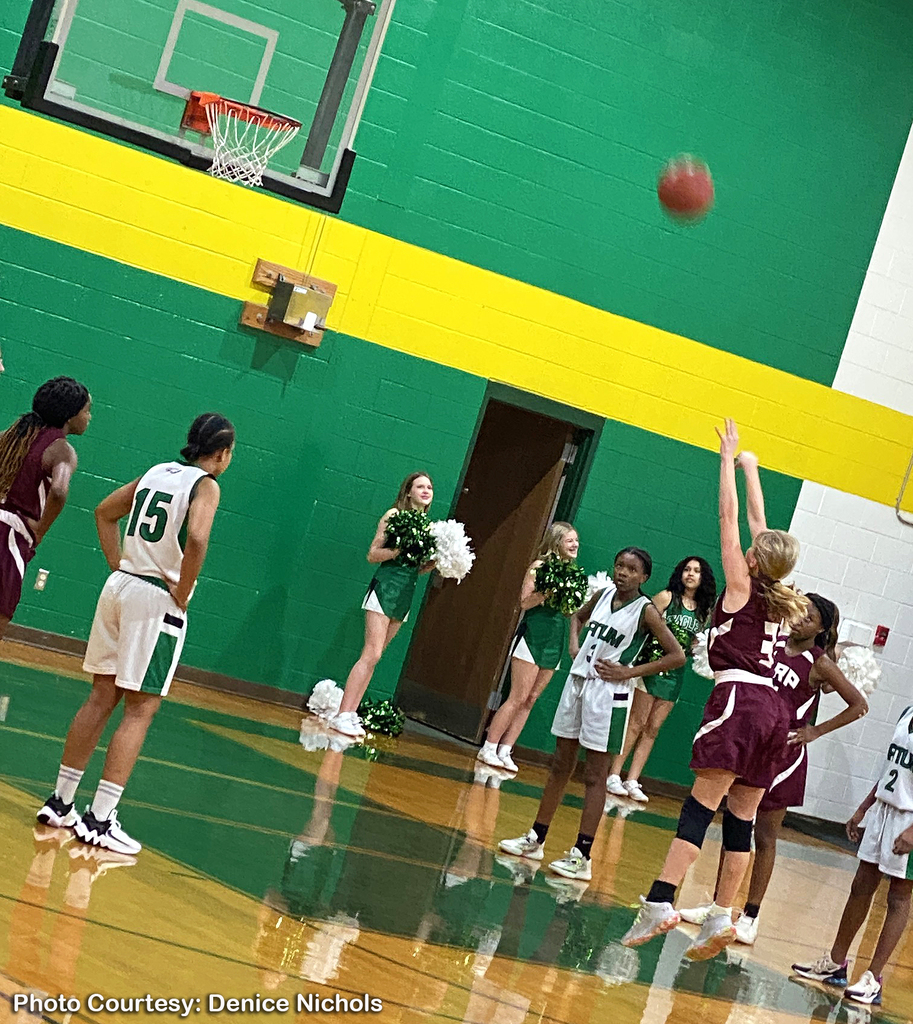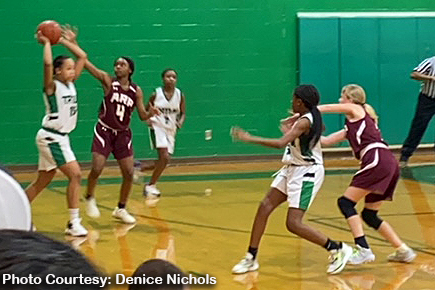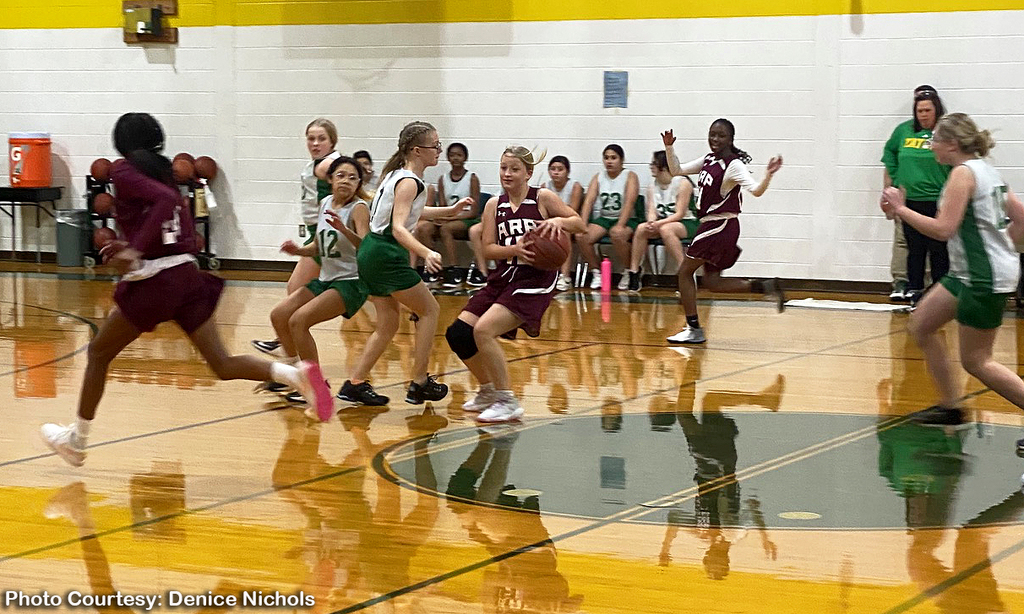 Friday Feb. 3, 2023 will be an early release day district wide. All three campuses will dismiss students at 12:30pm. Please make arrangements accordingly. Updated District Calendar:
https://5il.co/172nb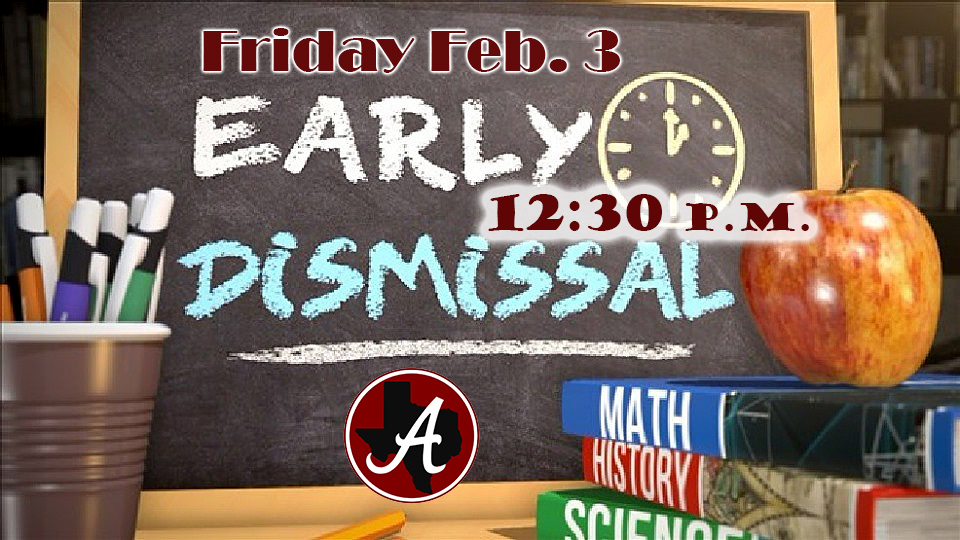 Both 7-Mile Rivalry varsity🏀games at Troup will be 📺LIVESTREAMED📺 TONIGHT (Tuesday) on NETsn.live Girls (6:15pm):
https://buff.ly/3XhxWtg
Boys (7:30pm):
https://buff.ly/3CUN87w
If you can't be there showing your #TPND for Arp H.S., tune in. #EATT #ALLIN #bEASTtexas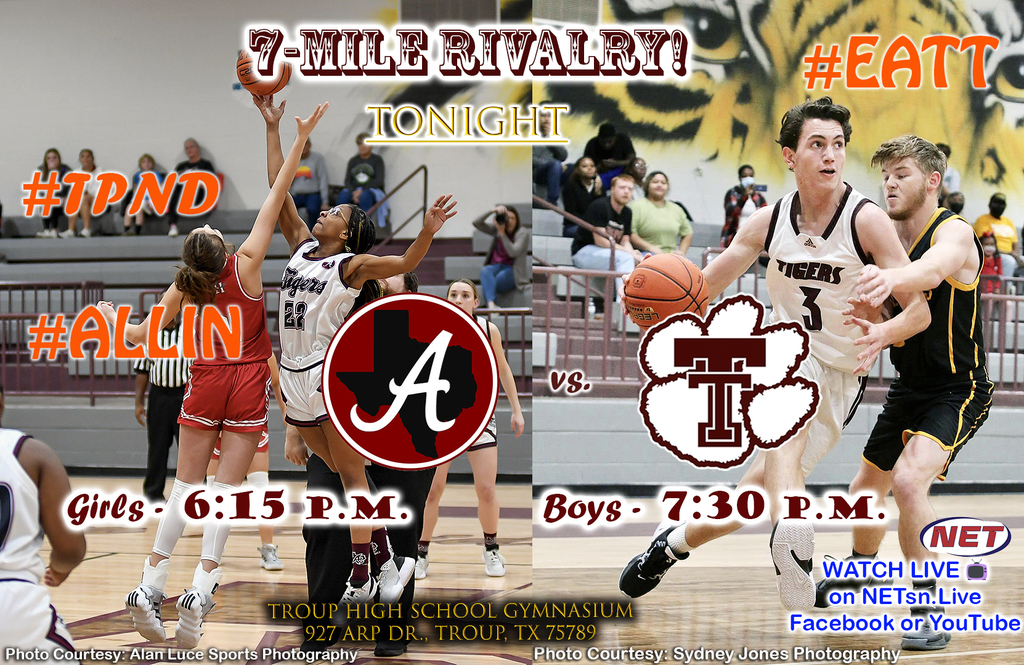 GET READY TO SHOW OFF YOUR BEST SWINGS: Saturday Feb. 11, Arp H.S. Softball is hosting a Hit-a-thon at 10:00am & Arp H.S. baseball, a HR Derby at 11:00am followed by an alumni game at 1:00pm. All proceeds benefit our Tiger & Lady Tiger student-athletes. #TPND #EATT #bEASTtexas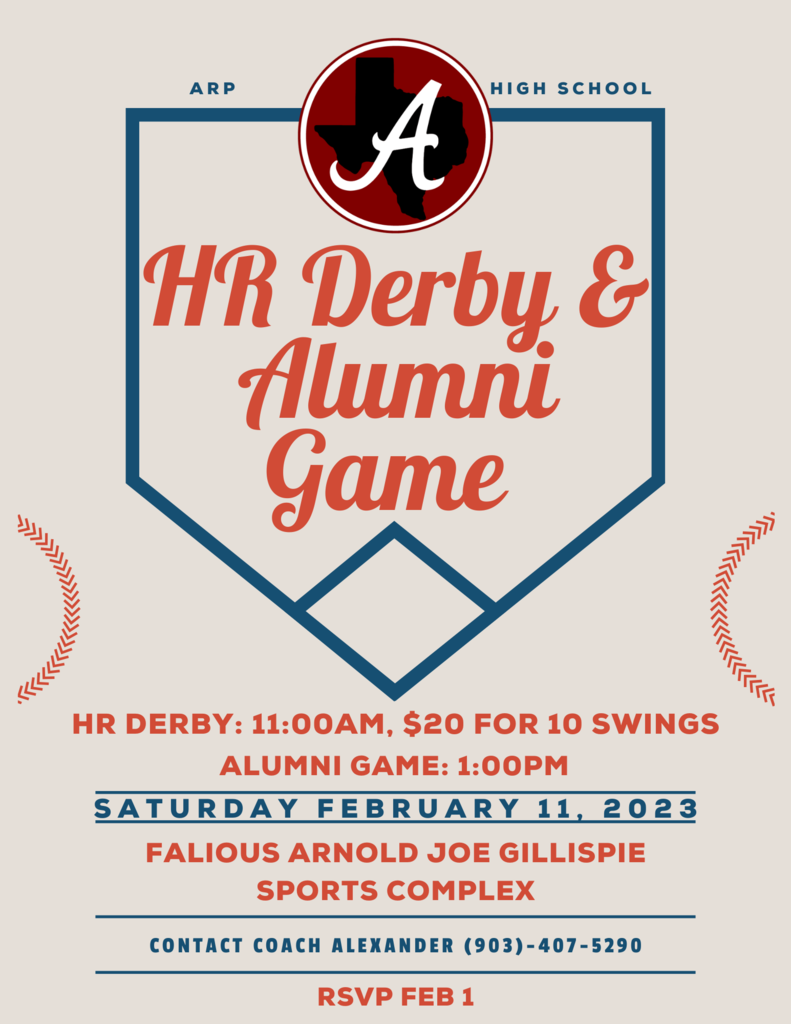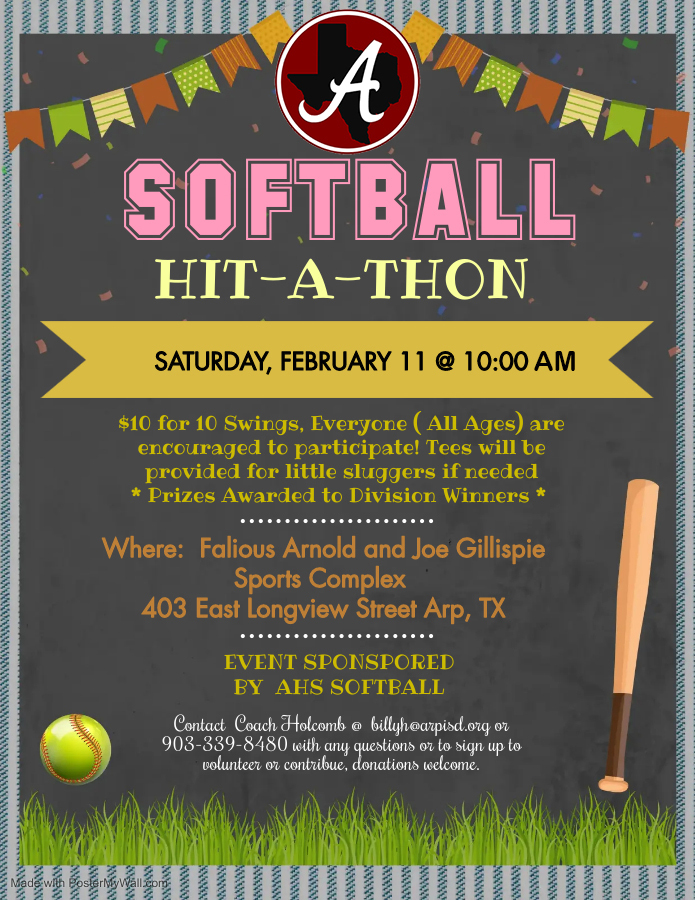 Let's congratulate Mrs. Lisa Moore on her retirement! After 20 years as maintenance & transportation secretary Lisa drove her last bus ride for Arp ISD Wednesday. Cherishing her countless selfless efforts during two decades, Maintenance & transportation director Randal Wilson said "she was an extremely valuable asset." leaving big shoes to fill.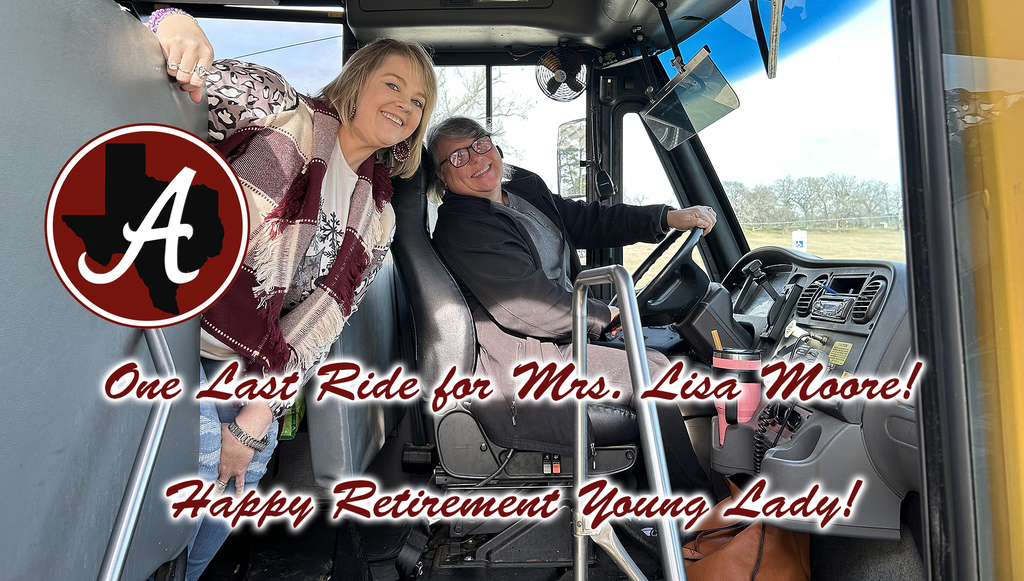 📺WATCH📺: PreK-3rd Grade Mini-Musicals: If you missed it or you just want to see it again (and again, and again) here you are. CLICK
https://bit.ly/3FMWnr7
to enjoy any or all of them. Happy Holidays🎄 from your friends at Arp ISD!