As we embark on a new era in Arp Tiger athletics, four Arp high school teams will have new faces leading them in the 2022-23 school year.
That includes both the girls and boys basketball teams.
Incoming Arp ISD athletic director Wes Schminkey has hired, with the approval of the school board, Joel Avance to take over the Lady Tigers basketball program as well as the district's cross country squads.
He's also brought in a pair of Brians.
Brian Malone becomes the head boys basketball coach, and Brian Dunn is the new Tigers head golf coach.
Dunn is also serving as co-defensive coordinator for the varsity football team. Malone will be busy in the fall as well coaching our junior high receivers.
Malone fills the void left by longtime coach Joe Crawford who steps down after two very successful stints that spanned a total of ten seasons leading the boys basketball program. Crawford won his 400th career game this past January, and will continue teaching history at Arp High School.
Avance takes over for the departed David Aguilar who is now the head girls basketball coach at Garrison.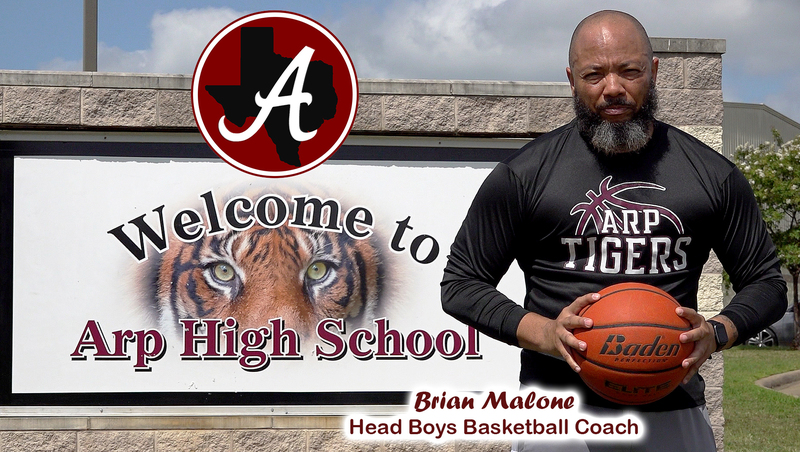 Malone has often been on the opposite bench over the last 16 years as the head boys basketball coach at Jefferson from 2006-16, and as an assistant at Tatum from 2016-22.
But now, he is thrilled to be a Tiger.
He brings in a tremendous amount of accomplishments from more than two decades of coaching.
Malone made a name for himself in the Lone Star State during his Jefferson Bulldog tenure, which incidentally included a memorable moment in Arp Tiger history when our boys defeated Malone's Bulldogs in the 2008 Class 2A Region 3 final to reach the UIL state tournament for the second time in three years.
That season marked a corner stone for Jefferson's turnaround as Malone led the program to its first playoff win in more than 20 years.
Below are some of his other achievements at Jefferson.
● 7 consecutive playoff appearances (2006-2013)
● 3 district championships (2007, 2008, 2009)
● Regional Final Appearance (2008)
● Area Finalist (2009, 2010, 2012)
● District Coach of the Year (2007, 2008, 2009, 2012)
● All Harrison/Marion County Coach of the Year (2008)
● Longview News-Journal Coach of the Year (2008)
● Achieved highest TABC ranking in Jefferson ISD history (2008)
● Selected as a TABC Summer Camp Coach (Camp of Champs) (2010, 2011, 2012)
Malone then coached under the accomplished Brett Carr at Tatum and helped the Eagles reach to the UIL State Championship game in 2021. He also had the unique opportunity to coach his son Kendric Malone (Class of 2022) in both football and basketball. The younger Malone is now a quarterback at Lamar University.
Tatum won six district championships (2017-2022) with Malone as part of the staff, and made two more region final appearances in 2019, and this past season. They also played in the regional quarterfinals in 2020.
Malone's first coaching job was at Ringgold High School in Louisiana, not far from his hometown of Castor.
He holds a bachelor's degree in education from Louisiana Tech University, having graduated in 1998.
Along with his coaching duties, Malone will be in charge of Arp ISD's Disciplinary Alternative Education Programs (DAEP).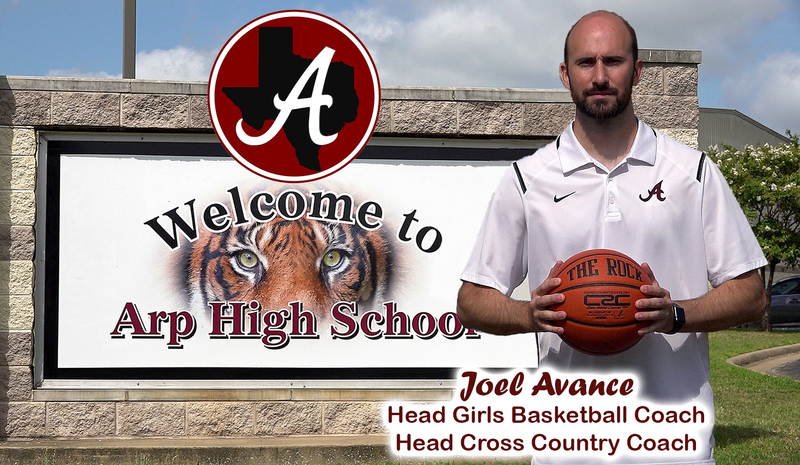 Avance comes from right down the road at Chapel Hill where he wore many hats in the girls athletics program the last five years.
He served in multiple roles from junior high to junior varsity in volleyball, basketball, track, and softball.
On the basketball court, Avance had the opportunity to work for T.J. Riley and Jeremy Durham, who just led Brownsboro to its first ever UIL state championship. Working under those men is something Avance calls, "A privilege."
Before coming to East Texas, Avance spent two years were in Hermitage, Arkansas where he also juggled many responsibilities.
He was the head cross country coach, head boys basketball coach, and head Baseball coach from 2015-17.
Avance has an impressive resumé as an athlete as well.
He was a 3A state cross country champion at Genoa Central High School in Arkansas (15 minutes south of Texarkana). He also helped lead their basketball team to its first state appearance in over 30 years while garnering all-state honors.
Then after graduating from the University of Central Arkansas with a Kinesiology Degree and a minor in Health, Avance played one season of semi-pro basketball for the South Arkansas Orange Storm of the Elite Basketball League.

Avance will also be an assistant track coach, and a math teacher at Arp Junior High School.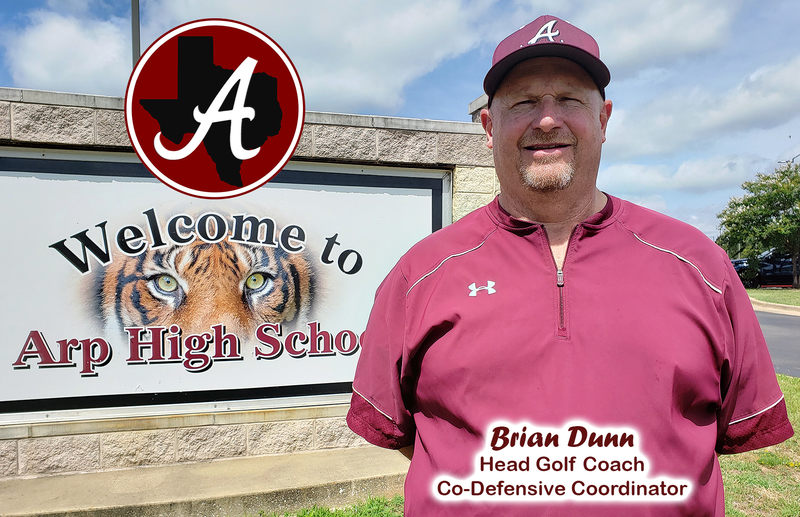 Dunn brings in 27 years of coaching experience with 18 of those in the East Texas Piney Woods, and 20 of them as a defensive coordinator.
He's hung plenty of skins on his walls throughout that time coaching football, golf, basketball, and track.
And he's also already worked with Schminkey. The two were the Co-Defensive Coordinators at Henderson from 2018-20, with Dunn holding the post from 2016-20. They helped the Lions football team reach the 4A Div. 1 state quarterfinals in 2017, and 2018. They were also together on the staff at Chapel Hill during the 2008 season.
Dunn has had the opportunity to coach four current NFL players in Patrick Mahomes, Nate Brooks, Trestan Ebner, and La'Kendrick Van Zandt. The first two during his time as defensive coordinator at Whitehouse, the last two in 2016 at Henderson.
He comes to Arp, America after a one-year stint at Bullard where he was the defensive line coach, and an assistant track coach.
Prior to his time at Henderson, he spent three years at Whitehouse. In 2013, with Dunn in charge of the Wildcats defense, they were undefeated district champions, beat Tyler High for the first time in school history, were ranked number two in the state, and reached the regional semifinals.
In 2015, Dunn was selected as a defensive coordinator for the Northeast Texas FCA Heart of a Champion All-Star football game.
From 2009-13, he was the defensive coordinator, and assistant golf coach at Corsicana. He helped lead those Tigers to a state semifinal appearance.
Dunn has also had successful stops at Elysian Fields, Malakoff, Fort Worth Wedgewood Middle School, West, and Carlisle. In 2003, he helped the Yellow Jackets get to the state quarterfinals.
He's been a head golf coach during seven years of his career. From 2002-05 at EF, and 2005-09 at C-Hill.
He took the Jackets to regional tourneys from 2003-05, and the Bulldogs in 2009.
Dunn graduated from Joaquin High School where he earned all-district honors in football, basketball, and baseball.
He attended Panola College, and Stephen F. Austin State University.
Dunn will also be a health and special education teacher at Arp Junior High School.