The grind of countless rehearsals, long nights, all out commitment, and effort are paying off for Arp High School's One Act Play.
Tuesday the Blue Stockings cast and crew earned the right to perform again.
Our Tigers earned a second place rating and advanced to the UIL One Act Play area competition on Saturday April 2 at Longview High School.
Under Miss Danielle Rousseau's direction, their rendition the last couple of days at the Bi-District contest at Elysian Fields High School also drew individual accolades.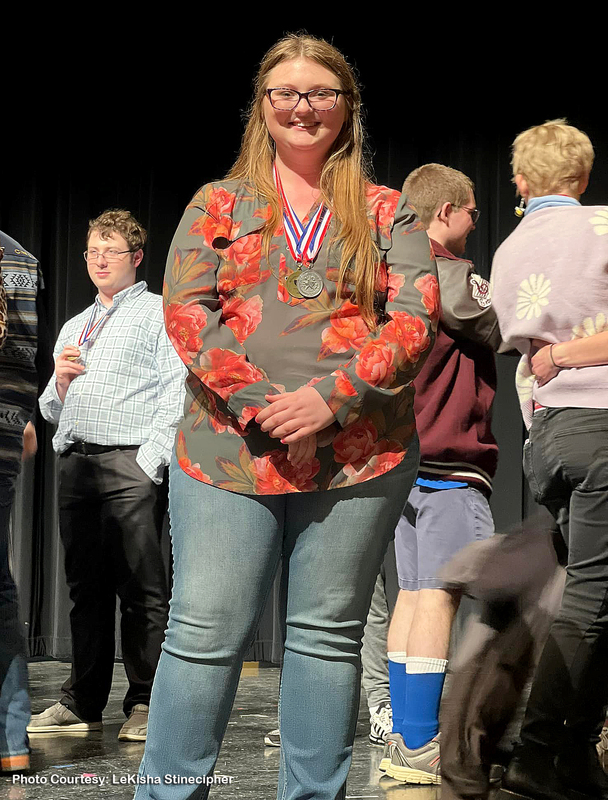 Freshman Kelsey Stinecipher was a "Crew" award winner for taking care of business with the sound.

Sophomore Kaitlyn Williams and junior Landry Brady made All-Star cast.
Junior Luke Langenbau received honorable mention for the All-Star cast.

Langenbau was also honorable mention for the All-Star cast at the District contest hosted at Arp High School on March 12-13.
Williams earned best performer at the District competition, while junior Bree Hammack was named to the All-Star cast. Sophomore Macey Ducksworth made the Crew award list.
Arp High School Blue Stockings cast
| | |
| --- | --- |
| Kaitlyn Williams | Tess Moffatt |
| Zoey Garcia | Mrs. Elizabeth Welsh |
| Ashley Howard | Celia Willbond |
| Gracie Jones | Carolyn Cecilia Mouchette Addison |
| Bree Hammack | Maeve Sullivan |
| Karli Flowers | Miss Blake |
| Madison Wilson | Minnie |
| Raine Brock | Miss Bott |
| Jacob Hooper | Mr. Banks |
| Michael Clepper | Holmes/Billy Sullivan |
| Luke Langenbau | Will Bennett |
| Julian Barocio | Ralph Mayhew |
| Landry Brady | Lloyd |
| Nikos Fuentes | Dr. Maudsley |
Arp High School Blue Stockings crew
Ryan Sherwood
William Atkinson
Macey Ducksworth
Jordan Clary
Kelsey Stinecipher