Below is an article by The Lufkin Daily News' Gary Stallard on Arp's 47-21 season opening triumph at Huntington Friday Aug. 27, 2021. Both photos in this article were taken by Gary Stallard for The Lufkin Daily News.
HUNTINGTON — The Huntington Red Devils lost several key players to graduation on both sides of the ball after the 2020 season, necessitating a revamped lineup heading into the new year.
Some of that inexperience showed in the season opener, with the Red Devils falling to Arp's Tigers 47-21 Friday in Huntington.
The Red Devils fell behind 27-0 before battling back, getting the hometown crowd to its feet midway through the second quarter after Huntington quarterback Garrett Chancelor connected with Darion Hale on a 71-yard touchdown pass. Hale outfought an Arp defender for the catch before strolling into the end zone.
But the Tigers were efficient on offense, using a mix of the run/pass game to build their early lead. On Arp's first possession of the game, Tiger running back Kadaylon Williams took a short screen pass from quarterback Frank Smith for a 61-yard touchdown romp.
On Huntington's ensuing possession, the Devils utilized their own balanced offense to move 40 yards into scoring position. Unfortunately, an Arp sack of Chancellor on third down set up a fourth-and-long situation, and Huntington was unable to convert.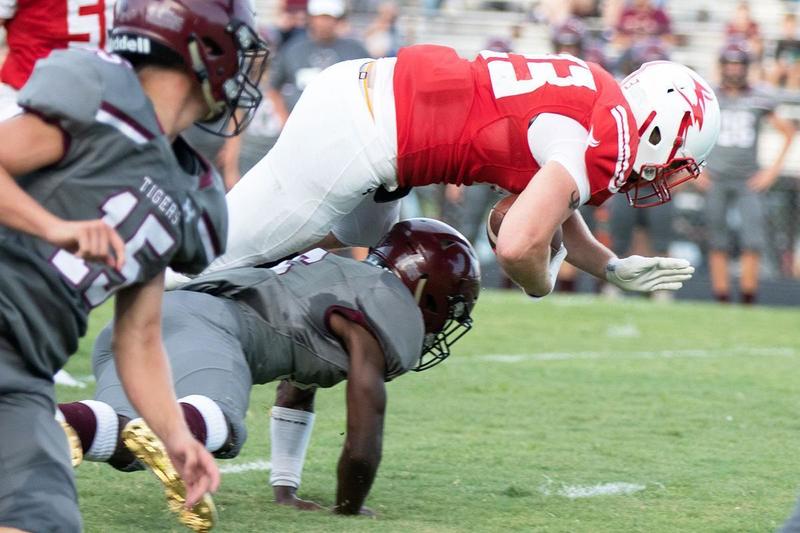 Arp moved straight down the field, culminating in a 37-yard scoring run from Williams. Tiger quarterback Smith connected with Jaylon Potts in the second quarter for a 37-yard score, but the Red Devils blocked the point-after attempt to keep the score at 20-0.
Following a three-and-out Huntington possession, Arp again struck from the ground game, with Michael Brager extending the lead with a nine-yard touchdown run.
Huntington tacked on two more scores late in the game, but it wasn't enough to complete the rally.
The Red Devils (0-1) are scheduled to travel to Shelbyville on Friday, with kickoff set for 7:30 p.m.
The Tigers (2-0) host Tenaha at Bill Herrington Tiger Stadium Friday at 7:30 p.m.